Posted on
Mon, Oct 8, 2012 : 5:59 a.m.
New Tom Monaghan biography aims to be 'fair, balanced and accurate'
By Roger LeLievre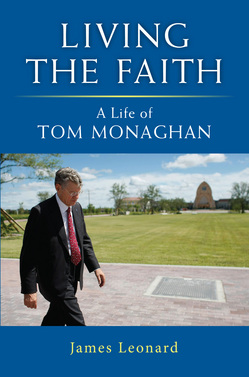 Note: This article has been corrected to reflect a $5 admission for the event at the Michigan Theater.
When local writer James Leonard was approached in 2008 to write a biography of Domino's Pizza founder and Catholic activist Tom Monaghan, Leonard was more than happy to deliver.
It took him nearly four years, but Leonard's "Living the Faith: A Life of Tom Monaghan" was recently released by the University of Michigan Press. Leonard will give a reading from the book at the Michigan Theater Sunday afternoon.
Leonard said the book, which checks in at just under 400 pages, is based on 10 interviews with Monaghan, plus conversations with many of his supporters and detractors. Although Monaghan gave the go-ahead for the project, Leonard said the former pizza magnate did not get to read or approve the manuscript before it went to press.
"He had no input into that at all," Leonard, who writes regularly for the Ann Arbor Observer and whose music criticism has also appeared in the pages of The Ann Arbor News and the All Music Guide, confirmed.
Leonard said he was approached by Ellen McCarthy, regional books editor for the University of Michigan Press, who recalled that he had once written a piece on Monaghan for the Observer. She asked if he would be interested in writing a book on Monaghan, and Leonard said he jumped at the chance.
He said he had no preconceptions about his subject before tackling the project.
"You know, I never paid much attention to him … I heard stuff about him but I never really thought about him. It was outside of my world. But if you're going to write a book about somebody from Ann Arbor, he's the guy to write a book about.
"He's a brilliant guy in an incredible, eccentric way," Leonard said of the former pizza magnate, who pioneered the idea of home delivery.
Leonard, 58, who describes himself as an ex-Catholic, spoke of Monaghan's "unbelievable tenacity and the complete inability to never give up," and said Monaghan "was never not going to be a success."
PREVIEW
"Living the Faith"
Who: James Leonard.
What: The first public reading of selections from Leonard's new book "Living the Faith: A Life of Tom Monaghan."
Where: Michigan Theater, 603 E. Liberty St.
When: 2 p.m. Sunday, Oct. 14.
How much: $5, available at the door or via ticketweb. Info: www.michtheater.org.
In addition to launching the Ann Arbor-based Domino's, Monaghan is the former owner of the Detroit Tigers baseball team (1983-1992) who incurred the wrath of many fans when he fired much-loved broadcaster Ernie Harwell and also dismissed iconic former University of Michigan football coach Bo Schembechler from his job as Tigers president.
He also founded Ave Maria College and the Ave Maria School of Law in the Ann Arbor area. The former closed in 2007, while the latter moved to Florida in 2009. A staunch Catholic, Monaghan sold his interest in Domino's in 1998 and has since devoted his time and money to the pro-life movement and other conservative causes, including Ave Maria University, near Naples, which he also founded. According to Leonard, Monaghan and his wife still live in the Ann Arbor area, but he spends much of his time in Florida.
Leonard said his first step was to read the 1986 Monaghan autobiography "Pizza Tiger." Then he read everything he could about his subject, compiled a list of everybody he wanted to talk to, and then reached out to Monaghan. "They took their sweet time making up their mind, which is completely understandable," Leonard said.
"I assured them that I wanted to write a fair, balanced and accurate biography. I wanted to be objective and fair, but compassionate. It was going to be a critical biography. It took him a while to make up his mind, but he made up his mind and he was absolutely cooperative in everything I could ask for, except talking to his wife and family."
The book touches on how Monaghan felt about firing Schembechler from the Tigers and about axing his right-hand man from Domino's. It also explores what Monaghan thinks of those who opposed his closing Ave Maria College and moving Ave Maria School of Law to Florida. It includes how his best friend feels about him and who Monaghan thinks can and will go to heaven.
"He'd been toying with the idea of writing the second half of his biography (the first half was "Pizza Tiger")," Leonard said about Monaghan, "but he never quite got around to it. He said a couple of times his hope for the book would be something they could purchase tons of and give away at Ave Maria since 'Pizza Tiger' is out of date now—it only goes up to '86 and 'Living the Faith' goes up to 2011."
Leonard acknowledged that Monaghan can still be a polarizing figure in Ann Arbor, and said he doubts the book with change anyone's opinion.
"People who want to read this book and hate Monaghan and hate religion and hate this and that are going to be real disappointed, I think, because it's not that simple," Leonard said. "He's a real human being, he's done real things. He's a very complex, fully-rounded, extremely interesting human being. He's not a monster any more than he's a saint.
"His business career, his thoughts on religion—it's not that simple. You can't just say "he's wrong, he's a Catholic.' To just brush it off that way is a really boring way to live. To be able to say 'this is good and that's bad'—it's not a black and white world, as much as much of our catechism might think it is. The key is to think for yourself."
Leonard said he hasn't heard from Monaghan since the book was published. A message to a Monaghan spokesman seeking comment on the book was not acknowledged.
Leonard said that over the course of the project he developed his own opinion of Monaghan.
"I totally respect the guy. Not admire necessarily. There are many admirable things, but respect? Absolutely," said Leonard. "What he's accomplished, whatever anyone thinks of it, is gargantuan. Whether you like or hate the Catholic Church, whether you like or hate capitalism … it's beyond your opinion.
"Besides—how many people have second acts? Elvis had a great first act, no second act. The Beatles had a great first act, but not much of a second act. But (Monaghan) started an educational empire—an incredible second act. That really moves it from a business biography … suddenly he's talking about religion. About halfway through his life he switches gears completely—it translates into a much larger world."
The book is available at bookstores, online sellers and directly from U-M Press.