Posted on
Fri, Jun 21, 2013 : 5:06 a.m.
Tonight at Top of the Park - Friday, June 21: Khalid Hanifi, the Ragbirds, and more
By AnnArbor.com Staff
Here's the schedule for tonight's Top of the Park, the free (donations welcome), outdoor component of the Ann Arbor Summer Festival. Descriptions provided by the festival. Top of the Park takes place in the area around East Washington Street at Ingalls Mall, except as noted.
4 p.m.: Tangle - South Ingalls Mall
Tangle is a huge, messy, fun, interactive elastic weaving event created live by children and their families.
5 p.m.: KidZone: Keith Hafner's Karate - KidZone Tent
Keith Hafner's Karate Demo Team teaches basic self-defense techniques that anybody can learn using humor, and exciting martial art skits and routines.
5 p.m.: Khalid Hanifi - Grove Stage
Ann Arbor's Khalid Hanifi has struck out on his own as an indie rock composer and performer known for his carefully constructed pop songs, solid vocal stylings, and broad musicianship.
6 p.m.: Ryan Racine - Grove Stage
Ryan Racine returns to The Grove with an acoustic duo performing original songs of heartache and loneliness that draw heavily on vintage country and honky-tonk.
7 p.m.: Wayward Roots - Rackham Stage
The Ann Arbor-based Wayward Roots will amaze you with their distinctive, fun songwriting and individual chops as they combine traditional bluegrass and contemporary "newgrass" into their original compositions.
7:30 p.m.: Tangle - South Ingalls Mall
Tangle is part spectacular visual arts installation, part performance, part playground, part dance party, and all chaos.
8 p.m.: The Appleseed Collective - Rackham Stage
Mix the Hot Club of Paris with the sweaty soul of Dixieland, a couple blades of bluegrass, a pinch of ragtime beat, and the swagger of swing and you'll conjure up Ann Arbor's The Appleseed Collective.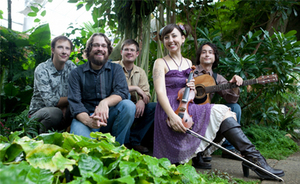 9:30 p.m.: The Ragbirds & Friends - Rackham Stage
The Ragbirds & Friends are a fusion of folk rock and pop hooks over danceable world rhythms stirred with a Celtic fiddler's bow.
11 p.m.: After Dark w/ DJ Hardy - Grove Stage
Come hear Top 40, Hip-Hop, Progressive and Electro House, Rock, Motown, Dancehall, Reggae mixes by Ann Arbor's DJ Hardy.