Posted on
Sun, Jul 7, 2013 : 5:04 a.m.
Tonight at Top of the Park - Sunday, July 7: 'So Long Sunday' with Hoodang, George Bedard, 'Grease' and more
By AnnArbor.com Staff
Here's the schedule for tonight's Top of the Park, the free (donations welcome), outdoor component of the Ann Arbor Summer Festival. Descriptions provided by the festival. Top of the Park takes place in the area around East Washington Street at Ingalls Mall, except as noted. Tonight is the final Top of the Park for this year.
5 p.m.: KidZone - KidZone Tent
Children can make their own bubble wand and blow bubbles while parents learn more about the Conceptual Development Lab at the University of Michigan, a group of who study how children develop language, categorize knowledge, and think about the world around them.
5 p.m.: Retreat: YogaFLEX - Power Center Lawn
Sharpen intuition and reconnect the mental with the physical in this yoga-inspired, stretching and core strengthening class that can help improve strength, flexibility, and range of motion with Marty Betts.
5 p.m.: Shari Kane & Big Dave Steele - Grove Stage
A long celebrated Ann Arbor acoustic blues duo, Shari Kane and Big Dave Steele throw a four handed guitar party of original and time-honored blues, gospel, swing, and ragtime.
6 p.m.: Annie & Rod Capps - Grove Stage
Locals Annie and Rod Capps will be closing the festival's Grove Stage with songs about broken things and poignant little ponderings delivered with a rootsy vibe, a touch of twang, and a soulful groove.
7 p.m.: Hoodang - Rackham Stage
Drawing inspiration from the traditions of English murder ballads, hardcore American country music, and searing electric blues, Hoodang plays hard-hitting country featuring gritty vocals, smart lyrics, and gleaming pedal steel.
8 p.m.: George Bedard & The Kingpins - Rackham Stage
In what has become an annual tradition, George Bedard & the Kingpins will close Top of the Park and the Ann Arbor Summer Festival season with their crowd-pleasing, swinging rockabilly and blues.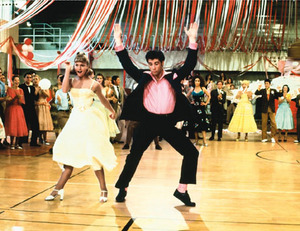 10 p.m.: Movie: "Grease" - Rackham Stage
Sing along to the original high school musical and wrap up another great season at Top of the Park! See if Danny Zuko (John Travolta) and Sandy Olsen (Olivia Newton-John) can make their summer love last across the divide of their high school social circles.