Posted on
Thu, Jun 27, 2013 : 5:26 a.m.
Tonight at Top of the Park - Thursday, June 27: 'Hunger Games' and more
By AnnArbor.com Staff
Here's the schedule for tonight's Top of the Park, the free (donations welcome), outdoor component of the Ann Arbor Summer Festival. Descriptions provided by the festival. Top of the Park takes place in the area around East Washington Street at Ingalls Mall, except as noted.
5 p.m.: KidZone: Life Long Learning Washtenaw Community College - KidZone Tent
Washtenaw Community College samples hands-on activities from their youth classes, camps, and workshops that will challenge children to invent, discover, and explore the natural world.
5 p.m.: Billy Brandt - Grove Stage
(CANCELED DUE TO WEATHER) Billy Brandt returns with his rootsy, folksy, psychedelic alt-country background that underpins his strong songwriting and adventurous spirit.
6 p.m.: Spontaneous Art - South Ingalls Mall
Spontaneous Art create interactive performances that bring bystanders together for moments of communal laughter, social connectivity, and flashes of creativity.
6 p.m.: Carolyn Striho - Grove Stage
(CANCELED DUE TO WEATHER) Carolyn Striho returns to the festival to evolve her craft as a songwriter, singer, poet, artist, and musician with her deeply-felt lyrics, mesmerizing stage presence, and evocative style.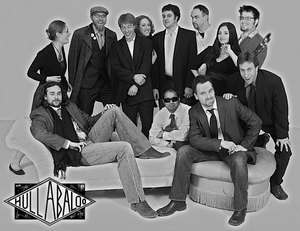 7 p.m.: Hullabaloo - Rackham Stage

(CANCELED DUE TO WEATHER) Blending Afro-Caribbean rhythms, a swinging horn section, and ska influences, Hullabaloo truly live up to their name.
8:30 p.m.: Wild Belle - Rackham Stage
Wild Belle has taken the indie world by storm and injected it with seventies style, West African influences, psychedelic synth, and smoky vocals.
10 p.m.: Movie: "The Hunger Games" - Rackham Stage
Enter a dystopian future and the story of Katniss Everdeen, a youth who voluntarily takes her younger sister's place in the Hunger Games, a televised fight to the death in which two teenagers from each of the twelve Districts of Panem are chosen at random to compete.