Posted on
Wed, Jun 19, 2013 : 5:20 a.m.
Tonight at Top of the Park - Wednesday, June 19: 'Tangle' for kids, wine tasting, 'Life of Pi,' and more
By AnnArbor.com Staff
Here's the schedule for tonight's Top of the Park, the free (donations welcome), outdoor component of the Ann Arbor Summer Festival. Descriptions provided by the festival. Top of the Park takes place in the area around East Washington Street at Ingalls Mall, except as noted.
4 p.m.: Tangle - South Ingalls Mall
Tangle is a huge, messy, fun, interactive elastic weaving event created live by children and their families.
5 p.m.; KidZone: Ann Arbor Hands-On Museum - KidZone Tent
Come explore hands-on, interactive science experiments for kids (and adults!) of all ages, as Ann Arbor Hands-On Museum takes over the KidZone Tent with experiments involving flying toys, states of matter, and much more!
5 p.m.: Wind Down Wednesday - Beverage Garden
Discover Italian wines made from organic grapes in a traditional, natural way. 5 p.m.: Tom Butwin - Grove Stage
Hear Butwin's smooth vocals and catchy guitar arrangements that are akin to Jason Mraz and John Mayer.
6 p.m.: Paledave & Jenny Fair - Grove Stage
Blending insightful lyrics, superb guitar playing, and beautiful harmonies, Paledave (Dave Buehrer) and Jenny Fair are a husband and wife acoustic duo from Ypsilanti.
7 p.m.: Eastern Blok - Rackham Stage
Eastern Blok's pan-cultural ensemble effortlessly blends classical and jazz music with the rich folkloric traditions of Macedonia, Bulgaria, Serbian folk, Klezmer, rock, and a smattering of Middle Eastern flavorings.
7:30 p.m.: Tangle - South Ingalls Mall
Tangle is part spectacular visual arts installation, part performance, part playground, part dance party, and all chaos.
8 p.m.: Preservation Hall Jazz Band wsg The New Orleans Bingo! Show - Power Center
With abundant energy and a fresh approach, the band brings new life to the sultry sounds and irresistible, toe-tapping rhythms of their native Louisiana.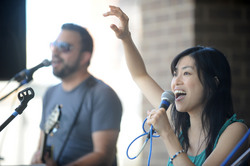 8:30 p.m.: October Babies - Rackham Stage
Ypsilanti's fusion forward October Babies are a hybrid of funk, jazz, R&B, reggae/ska/dub, techno, Latin, drum & bass, rock, surf-punk, hip-hop, down-tempo, orchestra pop, and blues.
10 p.m.: "Life of Pi" - Rackham Stage
A young man who survives a disaster at sea is hurtled into an epic journey of adventure and discovery.