Posted on
Wed, Jun 26, 2013 : 5:03 a.m.
Tonight at Top of the Park - Wednesday, June 26: Cajun music, wine tasting, 'Moonrise Kingdom' and more
By AnnArbor.com Staff
Here's the schedule for tonight's Top of the Park, the free (donations welcome), outdoor component of the Ann Arbor Summer Festival. Descriptions provided by the festival. Top of the Park takes place in the area around East Washington Street at Ingalls Mall, except as noted.
5 p.m.: KidZone: Ann Arbor Symphony Orchestra - KidZone Tent
Play violins and cellos sized just for kids at an Instrument Petting Zoo hosted by the Ann Arbor Symphony Orchestra in the KidZone Tent.
5 p.m.: Wind Down Wednesday - Beverage Garden
Tonight discover a delicious sampling of Spanish wines.
5 p.m.: Greater Alexander - Grove Stage
Southfield's Greater Alexander (Alexander Vlachos) creates a gentle power with his acoustic guitar, piano, lush vocals, and African and Latin percussion instruments.
6 p.m.: Danielle French - Grove Stage
Join for this festival debut of Danielle French's mellifluous vocals and a robust guitar sound inspired by her fifteen years as an alt-country singer-songwriter touring.
7 p.m.: Maison Bleue; Rackham Stage
Get ready for some hot Michigan gumbo as Ann Arbor's Cajun - Zydeco band Maison Bleue plays the music of southern Louisiana as authentically as possible, even singing songs in Cajun French.
8:30 p.m.: Vishten - Rackham Stage
With a unique blend of fiddle, guitar, accordion, harmonium, whistles, piano, bodhrán, jaw harp, moog, electric guitar, and percussive dance, be sure to catch this tour de force in action at Top of the Park.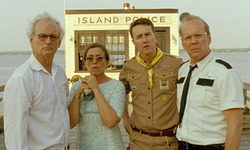 10 p.m. - Movie: "Moonrise Kingdom" - Rackham Stage
Set on an island off the coast of New England in the 1960s, as a young boy and girl fall in love they are moved to run away together.