event preview
with video:

Tonight at Top of the Park: Country music, trivia contest, 'The Big Lebowski,' and more

Posted on Thu, Jun 28, 2012 : 5:20 a.m.
Tonight is Day 12 of Top of the Park, the popular, free (donations welcome) outdoor happening featuring music, movies, kicking back, running into friends, and a variety of other attractions.
Each day in cooperation with the Ann Arbor Summer Festival—which presents Top of the Park as well as main-stage ticketed events—AnnArbor.com is publishing a rundown of the night's happenings. Here's an overview of tonight's schedule, followed by a more detailed look at the events and attractions:
OVERVIEW

6:30-8:30 p.m. - Trivia Night in the Roots Lounge
6:30-8 p.m. - KidZone
6:30 p.m. - Bill Bynum & Co. (Americana)
8 p.m. - Infamous Stringdusters (bluegrass / country)
10 p.m. - Movie: "The Big Lebowski"

ENTERTAINMENT DETAILS


Bill Bynum & Co. - 6:30 p.m.
Ann Arbor quartet Bill Bynum & Co. combine guitar, fiddle, bass, pedal steel, and harmony vocals into southern roots, bluegrass, Americana, and rock originals and classics.
Performing since: 2007
Home base: Ann Arbor
Style of music: Americana/ Southern roots
Members: Bill Bynum, guitar, lead vocal; Mary Seelhorst, fiddle, backing vocal; John Lang, pedal steel, banjo; Chuck Anderson, bass.
Day jobs: Bill, financial advisor; Mary, museum design; John, Siemens; Chuck, mathematician
Favorite road food: Stuckey's Pecan Rolls
Favorite stage outfit: Jeans & Ts
Musical hero: Roger Miller
Website:
www.billbynum.com/
Myspace:
www.myspace.com/billbynum
Facebook:
www.facebook.com/BillBynumCo?v=wall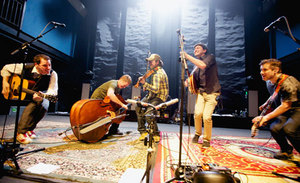 Infamous Stringdusters - 8 p.m.
The Infamous Stringdusters combine virtuosic chops on five traditional bluegrass instruments and balance a fluency in old-timey bluegrass with indie jamgrass sensibilities.
Performing since: 2006
Home base: Charlottesville, VA
Style of music: High Country
Members: Travis Book (Bass) Chris Pandolfi (Banjo) Andy Hall (Dobro) Andy Falco (Guitar) Jeremy Garrett (Fiddle)
Band name backstory: Suggested by Ben Eldridge of the Seldom Scene.
Day jobs: What's a day job? Seriously though, we play music, everything else (event planning, writing, bike racing, teaching, etc.) is secondary.
Favorite road food: Lobster Rolls
Favorite stage outfit: shirt, jeans, shoes you can rock out in.
Musical hero: Earl Scruggs
Website:
www.thestringdusters.com/silver_sky/
Facebook:
www.thestringdusters.com/silver_sky/
Movie: "The Big Lebowski" - 10 p.m.
Running time: 117 minutes. 1998. Rating: R (intended for audiences 17 and older; minors must be accompanied by parent/guardian)
In this Coen brothers classic, when "The Dude" Lebowski (
Jeff Bridges
) is mistaken for a millionaire Lebowski, two thugs urinate on his rug to coerce him into paying a debt he knows nothing about. While attempting to gain recompense for the ruined rug from his wealthy counterpart, he accepts a one-time job with high pay-off. He enlists the help of his bowling buddy, Walter (
John Goodman
), a gun-toting Jewish-convert with anger issues. Deception leads to more trouble, and it soon seems that everyone from porn empire tycoons to nihilists want something from The Dude.
OTHER ATTRACTIONS
The Roots Lounge, presented by AnnArbor.com
Stop by The Roots Lounge, a new feature at the festival this year, presented by AnnArbor.com. With free public WiFi available through 20/20 Communications, it's a place where you can post, share, tweet, read or just relax, listen and enjoy. And if your smartphone or tablet runs out of juice, stop by and use the free charging station.
Tonight is Trivia Night, brought to you by
The Arena Bar
. Gather your friends (teams of 2), come test your knowledge and get your chance to win prizes including 2 tickets to see
Cinematic Titanic
at The Michigan Theater on July 5. (
Ticket giveaway details here.
) The contest starts at 6:30 p.m. in The Roots Lounge. Arena Bar will be awarding gift certificates each Thursday and a Grand Prize trip for two to Las Vegas, which will be awarded to the team with the highest combined score from the three Trivia Nights —June 21, 28 and July 5. Promotional Sponsor:
The Arena Bar and Grill
.
KidZone - 6:30-8 p.m.
As described by the festival, "An interactive area for our youngest concert-goers, the Kidzone tent provides a fun and safe area for children and their parents to discover and explore a wide variety of hands-on activities with different community partners. From getting temporary tattoos, creating homemade instruments, or jamming out rock band style, KidZone offers different nightly activities for families at Top of the Park."
Top of the Park takes place in front of the Rackham Building on East Washington Street. In addition to the daily entertainment, a variety of local food vendors will also be on hand each night. For more information, see the
Summer Festival website
, and watch AnnArbor.com for
complete coverage of festival events
.
View
Summer Festival Top of The Park 2012
in a larger map