event preview
with video:

Tonight at Top of the Park: The Ragbirds; 'O Brother, Where Art Thou?'; trivia contest; and more

Posted on Thu, Jun 21, 2012 : 4:54 a.m.
Tonight is Day 6 of Top of the Park, the popular, free (donations welcome) outdoor happening featuring music, movies, kicking back, running into friends, and a variety of other attractions.
Each day in cooperation with the Ann Arbor Summer Festival—which presents Top of the Park as well as main-stage ticketed events—AnnArbor.com is publishing a rundown of the night's happenings. Here's an overview of tonight's schedule, followed by a more detailed look at the events and attractions:
OVERVIEW

6:30-8:30 p.m. - Trivia Night with the Arena
6:30-8 p.m. - KidZone
6:30 - Lucas Paul Band - pop / rock
8 p.m. - The Ragbirds - folk / pop
10 p.m. - Movie: "O Brother, Where Art Thou?"

ENTERTAINMENT DETAILS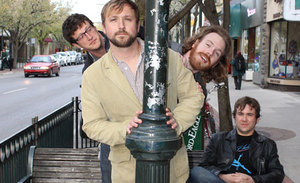 Lucas Paul Band - 6:30 p.m.
Known for their musicianship, unique pop vocal sound, and raw energy at live shows, Ann Arbor's The Lucas Paul Band play versatile rock inspired by artists like Paul Simon and Maroon 5.
Performing since: 2006
Home base: Ann Arbor
Style of music: Pop/Rock
Members: Lucas Paul, Pete Birchler, Bobby Streng, Matt Henninger, Mike Shea
Band name backstory: By a sheer moment of originality and downright brilliance, the word "Band" was added to the lead singer's first and middle names to ensure the rest of the band knew who the boss was. They still need to be reminded from time to time.
Day jobs: Lucas Paul - Vice President of Engineering for Harvest Energy Solutions; Pete Birchler - General Manager for Marshall Music.; Bobby Streng - professional saxophonist, composer, & arranger; Matt Henninger - Director of Business Development for Medianet; Mike Shea - professional drummer & percussionist.
Favorite road food: King Crab Legs & Jameson
Favorite stage outfit: Jeans and T-shirts with legendary animals such as unicorns and chupacabras printed on them
Musical hero: Stevie Wonder
Website:
lucaspaulband.com/
Facebook:
www.facebook.com/lucaspaulband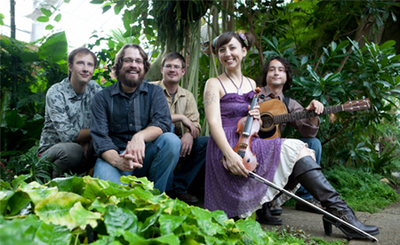 The Ragbirds - 8 p.m.
Led by dynamic, energetic front woman and multi-instrumentalist Erin Zindle, The Ragbirds are a fusion of folk, rock, and pop hooks over danceable world rhythms. Zindle skillfully switches between violin, mandolin, banjo, accordion, and percussion, all while dancing around the stage, drawing the awe of audiences across the country.
Performing since: 2005
Home base: Ann Arbor
Style of music: Folk/Rock/World ("infectious global groove")
Members: Erin Zindle, singer/songwriter, multi-instrumentalist; TJ Zindle, guitar, vocals; Randall Moore, percussion; Loren Kranz, drumset, vocals; Brian Crist, bass guitar
Band name backstory: I (Erin) use a lot of bird imagery in my poetry, art and music so I was brainstorming around that theme. I also wanted to convey this feeling that was I was putting together musically was pieced from many fabrics, like a stitched quilt and the project was very DIY from the start so I decided that The Ragbirds was a fitting name. It seemed to be a creature that was humble and patched together but which still had the capability for flight.
Day jobs: We are full-time musicians
Favorite road food: Thai (we like the spicy challenge—it's an ongoing competition)
Favorite stage outfit: Barefoot in any dress that spins when I twirl, either bright colored or black and white, with poofy pigtails, a flower and feathers in my hair.
Musical hero: Paul Simon
Website:
www.theragbirds.com/
Myspace:
www.myspace.com/theragbirds/music
Facebook:
www.facebook.com/theragbirds
Twitter:
twitter.com/#!/theragbirds
AnnArbor.com feature story on The Ragbirds
Movie: "O Brother, Where Art Thou?" - 10 p.m.
Running time: 116 minutes. Rating: PG-13. 2000.
The Coen Brother's re-envision Homer's epic poem "The Odyssey" in Depression-era Mississippi with rich sepia tones and a stunning bluegrass soundtrack. Everett Ulysses McGill (George Clooney) and his companions Delmar and Pete are sprung from a chain gang and are trying to reach Everett's home to recover the buried loot of a bank heist, encountering many strange characters along the way.
OTHER ATTRACTIONS
The Roots Lounge, presented by AnnArbor.com
Stop by The Roots Lounge, a new feature at the festival this year, presented by AnnArbor.com. With free public WiFi available through 20/20 Communications, it's a place where you can post, share, tweet, read or just relax, listen and enjoy. And if your smartphone or tablet runs out of juice, stop by and use the free charging station.
Tonight is Trivia Night, brought to you by
The Arena Bar
. Gather your friends (teams of 2), come test your knowledge and get your chance to win prizes including two (2) tickets for
The Moth
, compliments of AnnArbor.com. Arena Bar will be awarding gift certificates to the Arena Bar and Grill each Thursday and a Grand Prize trip for two to Las Vegas which will be awarded to the team with the highest combined score from the three Trivia Nights—June 21, 28 and July 5. Promotional Sponsor: The Arena Bar and Grill.
KidZone - 6:30-8 p.m.
As described by the festival, "An interactive area for our youngest concert-goers, the Kidzone tent provides a fun and safe area for children and their parents to discover and explore a wide variety of hands-on activities with different community partners. From getting temporary tattoos, creating homemade instruments, or jamming out rock band style, KidZone offers different nightly activities for families at Top of the Park."
Top of the Park takes place in front of the Rackham Building on East Washington Street. In addition to the daily entertainment, a variety of local food vendors will also be on hand each night. For more information, see the
Summer Festival website
, and watch AnnArbor.com for
complete coverage of festival events
.
View
Summer Festival Top of The Park 2012
in a larger map
MAINSTAGE TONIGHT
Esperanza Spalding
Power Center, 8 p.m.
Tickets $30-$50, 734-764-2538 or
www.annarborsummerfestival.org
Preview article from AnnArbor.com