event preview
Tonight at Top of the Park: Madcat & Kane; family rock; 'Jurassic Park'; and more
Posted on Sun, Jul 1, 2012 : 5:45 a.m.
Tonight is Day 15 of Top of the Park, the popular, free (donations welcome) outdoor happening featuring music, movies, kicking back, running into friends, and a variety of other attractions.
Each day in cooperation with the Ann Arbor Summer Festival—which presents Top of the Park as well as main-stage ticketed events—AnnArbor.com is publishing a rundown of the night's happenings. Here's an overview of tonight's schedule, followed by a more detailed look at the events and attractions:
OVERVIEW

4 p.m.and 6 p.m. - Erth's "Dinosaur Petting Zoo"
5-8 p.m. - KidZone
5 p.m. - Retreat: Contact Improv Class
5 p.m. - Supersonic Music Makers & the Fortytwo - family rock
6:30 p.m. - Anna Banana Band - kid rock
8 p.m. - Madcat & Kane - blues / roots
10 p.m. - Movie: "Jurassic Park"

ENTERTAINMENT DETAILS

Erth's "Dinosaur Petting Zoo" - 4 p.m. and 6 p.m.
A 45- to 60-minute family performance, held on the lawn of the Power Center, in which the company interacts with the crowd by introducing them to a menagerie of creatures and walking the various prehistoric puppets through the audience for people to see up close and to pet. Admission free; donations appreciated; blankets and early arrival recommended. Additional performances at 4 and 6 p.m. Sunday.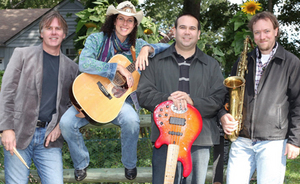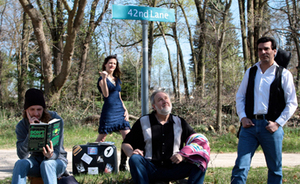 Supersonic Music Makers & the Fortytwo - 5 p.m.
Melissa and the Supersonic Music Makers is an interactive children's show fronted by Burns Park mom Melissa Bruzzano. Children can fly around in their very own Supersonic cape while dancing to Superhero, they can learn the Happy Time Dance and write lyrics to Everyday. The Fortytwo, also fronted by Melissa, will perform after the Supersonics. The Fortytwo is a family friendly retro dance rock band.
Home Base: Ann Arbor
Style of music: Classic dance rock, a subtle mixture of rock, funk, blues, southern jam and other genres.
Members:
Melissa Bruzzano, Feter McBlues, Dave Webber
and
Chad Sturdivant
Band name backstory: 42 is the answer to life, the universe and everything.
Day jobs: This is our day job.
Favorite Road Food: That's a pretty loaded question because we all like so many different things or have restricted diets or don't eat before a show. I do make lunch for the band sometimes and Chad loves a flax tempeh sandwich with cheese, avocado, tomato, and lettuce. Feter will always go for the tuna salad sandwich with cheese and lettuce. Dave likes the Carrell Farms grass fed bison burger or New York strip sandwich. I like all 3 of those.
Favorite stage outfit: A fitted blue dress that my sister gave me for my birthday last year. I usually wear it with a big necklace that my mom gave me and big black boots.
Musical Hero: There are way too many to name. We all love different bands and musicians. Feter's Musical Hero is Neil Young; Chad's Musical Hero is John Bonham; Melissa's Musical Hero is a toss up between Bob Dylan, Bob Marley, Mikey Houser and Jerry Garcia; Dave has so many Musical Heros that it is hard to choose between Beatles, Grateful Dead, NRBQ, Miles Davis, Wes Montgomery or Jerry Garcia.
Website:
www.thefortytwo.us/Home.html
Myspace:
www.myspace.com/the4t2
Facebook:
www.facebook.com/pages/The-Fortytwo/179636042059824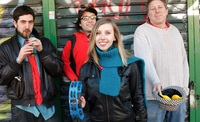 Anna Banana Band - 6 p.m.
Brooklyn's Anna Banana Band is a punky rock band featuring Anna Bohichik, bassist and backup singer for David Weinstone's (as seen on "Nick, Jr.") official Music for Aardvarks touring band.
Performing since: 2011
Home base: Brooklyn, NYC
Style of music: Punky rock band for children
Members: Anna Banana and her friends Jacques, Steve and Giovanni
Band name backstory: Anna's parents named her Anna Banana! It's true! Funny name, isn't it? Well, with a name like that, you just have to start a band.
Day jobs: Jacques is a superhero, Steve is a rock star, and Giovanni is a robot. When Anna Banana grows up, she wants to be a music teacher.
Favorite road food: bananas, of course! Especially banana-splits, banana cream pie, banana bread, and banana pudding...yum!
Favorite stage outfit: Colorful clothes.
Musical heros: Sharon, Lois & Bram; David Weinstone
Website:
www.annabananaband.com/
Facebook:
www.annabananaband.com/
Twitter:
twitter.com/#!/annabananaband
Madcat & Kane, with special guests Big Dave Steele and Mike Shimmin - 8 p.m.
Harmonica virtuoso and Grammy winner
Peter Madcat Ruth
and renowned blues guitarist
Shari Kane
joined forces to perform at the Top of the Park in 1990. Since then, this world-class blues duo has toured nationally and internationally. This year they will be joined by Shari Kane's husband,
Dave Steele
(from Big Dave and the Ultrasonics) and master drummer
Mike Shimmin
. Performing since: 1990. Our very first gig was at Top of the Park, on July 1, 1990, EXACTLY twenty two years to the day before this year's gig.
Home base: Ann Arbor
Style of music: acoustic blues and American roots music
Day jobs: Madcat & Mike Shimmin are full time performing and recording musicians. Shari Kane teaches guitar and has taught several people who have become professional touring musicians. Dave Steele is a high school teacher, but for many years he toured with the the band: Big Dave and the Ultrasonics.
Favorite road food: On the road we like to search out independent (non-chain) restaurants. We especially like Thai food.
Favorite stage outfit: Shari Kane always looks classy / Madcat usually wears cusom tie-died shirts and Lee jeans.
Musical hero:There are so many, but if we have to choose just one: Muddy Waters.
Website:
www.madcatmusic.net
Movie: "Jurassic Park" - 10 p.m.
Running time: 127 minutes. Rating: PG-13. 1993.
In Steven Spielberg's adaptation of Michael Crichton's best-selling novel, huge advancements in scientific technology have been able to create a theme park island full of living dinosaurs. John Hammond has invited four individuals, plus his two grandchildren, to join him at Jurassic Park. But will everything go to plan? When one of the park's workers attempts to steal the dinosaurs' embryos, they must shut down the electricity, and it becomes a race for survival among dinosaurs on the loose.
OTHER ATTRACTIONS
The Roots Lounge, presented by AnnArbor.com
Stop by The Roots Lounge, a new feature at the festival this year, presented by AnnArbor.com. With free public WiFi available through 20/20 Communications, it's a place where you can post, share, tweet, read or just relax, listen and enjoy. And if your smartphone or tablet runs out of juice, stop by and use the free charging station.
Tonight, it's Ice Cream Sundays. Stop by The Roots Lounge between 6 and 10 p.m. and get a coupon for 50 cents off your purchase of Stucchi's Ice Cream at the Top of the Park Stuchhi's Booth, compliments of AnnArbor.com and WEMU. Sundays only while supplies last.
Retreat: Contact Improv Class - 5-6 p.m.
"Retreat" is a series of mind-body sessions at Top of the Park. Led by experienced practitioners, all sessions are free, and take place each weekend in the gardens and courtyards surrounding the Alumni Center of Fletcher Street. This evening, a dance technique in which points of physical contact provide the starting point for movement improvisation. With Contact Improv Ann Arbor instructor Andy Seiler.
KidZone - 5-8 p.m.
As described by the festival, "An interactive area for our youngest concert-goers, the Kidzone tent provides a fun and safe area for children and their parents to discover and explore a wide variety of hands-on activities with different community partners. From getting temporary tattoos, creating homemade instruments, or jamming out rock band style, KidZone offers different nightly activities for families at Top of the Park."
Top of the Park takes place in front of the Rackham Building on East Washington Street. In addition to the daily entertainment, a variety of local food vendors will also be on hand each night. For more information, see the
Summer Festival website
, and watch AnnArbor.com for
complete coverage of festival events
.
View
Summer Festival Top of The Park 2012
in a larger map