Posted on
Fri, Aug 16, 2013 : 5:47 a.m.
Tony Award-winning director and U-M grad Jack O'Brien talks about his new book 'Jack Be Nimble'
By Jenn McKee
Talking on the phone with three-time
Tony Award
-winning director and University of Michigan grad
Jack O'Brien
("Hairspray," "The Full Monty," "The Coast of Utopia," etc.) may be even more fun than reading his new book, "Jack Be Nimble: The Accidental Education of an Unintentional Director"—and that's saying something.
The book primarily tells the story of O'Brien's experiences with the Association of Producing Artists: at the time, a fledgling, professional repertory company that played a significant role in America's regional theater movement and first took up residence at U-M during O'Brien's student days. (Much of the book's first 100 pages are set in Ann Arbor, as are later sections.)
But one of "Jack Be Nimble"'s biggest selling points is its dishy, fun, charming voice.
"People have told me, 'I feel like I've spent these two weeks with you, talking to me,' and that's good, because theat's exactly what I was trying to do," said O'Brien. " … At first, I couldn't find the tone. I didn't want to write an academic treatise about the history of the APA - that wasn't in my wheelhouse, it didn't interest me, and I didn't know how to do it, anyway."
But reading the down-to-earth, chatty, personality-fueled essays of Stephen Sondheim inspired O'Brien to simply write the story as if talking to a friend.
Some of O'Brien's real, longtime friends, of course, inevitably play a role in the story, and that always makes writing a memoir tricky.
"More than almost anybody, I worried about Rosie," said O'Brien, referring to APA actress Rosemary Harris (whom moviegoers may remember as Peter Parker's Aunt May in Sam Raimi's Spider-Man movie trilogy). "She's an incredibly private person, and this was a painful time in her life. She's never talked about it. … But I sent her the book, and she loved it."
Harris, in APA's early days, was the crown jewel of the company, which had been the brainchild of her husband, legendary director Ellis Rabb.
"Ellis created the company to make Rosie a star," said O'Brien. "She inspired him. And when the marriage failed, he couldn't sustain (APA)."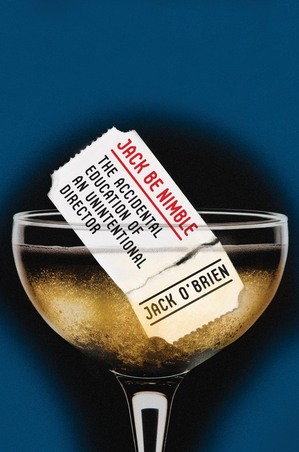 So the book traces the rise and fall of APA, since O'Brien found himself going along for the ride—first as an occasional supporting player, then as Rabb and Harris' assistant.
"(APA) had extraordinary success, but for some reason, no one pays attention to that," said O'Brien. "It's like this entire chapter has disappeared. I found myself talking about (a book about APA) until I just decided to do it."
But back when he was adolescent in Saginaw, O'Brien hadn't dreamed of pursuing a career in theater.
"If you were from the Midwest, it was anathema to go to U of M to sing and dance," O'Brien said. Yet one thing that endeared O'Brien to his fraternity was his ability to play songs on the piano by ear (he essentially staged a weekly cabaret performance); and with U-M music student Bob James, O'Brien wrote original musical comedies like "Land Ho!" - a national award-winning show, presented by MUSKET, which told the story of Christopher Columbus smuggling women to the New World.
Since that time, of course, U-M has built up strong drama and musical theater departments, with the latter now considered one of the best in the country.
"Don't think I'm not envious," said O'Brien. "I can tell when a Michigan grad comes through the door. There's only about 3 training programs in the country that produce artists of such high quality."
And while academic programs focused on developing young directors are now common, O'Brien likes to tell young, aspiring directors, "Look, the path I took was overgrown long ago in the jungle. It no longer exists. … Nobody was teaching directing then. There was no such discipline. At the time, the only way to do it was—I was just fascinated by this troupe of actors—by Ellis and his vision—and I wanted to be close to them. … I'm always saying to kids who come to work for me, 'Learn how I learned. Pay attention. Try to spot what's wrong before I do. Join your acumen with my experience.' I still think that's the best way. I think too many people come to New York expecting to be discovered. I say go west, get involved with a company, and get lots of experience."
O'Brien may eventually follow up "Jack Be Nimble" with another book, since so much of his professional career lies beyond the parameters of the story at the center of this first book—including his longtime stewardship of San Diego's Old Globe Theatre, his most celebrated productions, and his far less successful shows.
Like, for instance, the much-panned sequel to "The Phantom of the Opera," called "Love Never Dies."
"It was a terrible mess," said O'Brien. "And it was a mess that I couldn't do anything about. It was already in cement by the time I arrived in London. … I have very strong feelings about the experience. I just don't think the English like us very much, on some level. They don't trust us. I tried everything I could. And I was very well treated until the show opened. Then (Andrew Lloyd Webber) swept us all off the table. He had a couple of good songs in the show, and he decided he'd sacrifice everything else that was happening on stage to make the music sound good. It was a very unhappy experience from which I learned virtually nothing."
"Jack Be Nimble," meanwhile, includes a section on an early flop, "The Selling of a President," and demonstrates that O'Brien accepts that such less-than-glamorous moments in a theater career are just part of the deal.
"I don't take myself seriously," said O'Brien. "I can't afford to. I consider this work, and the ability to make a living at it, a privilege, not something I'm entitled to. There is a part of me that still expects to be discovered as a fake and a phony. That someone will come through the door and say, 'You're lying, you're not very talented, go away.' We all court the muse, but she doesn't work for us. She doesn't even date us steadily. You can't depend on her."
O'Brien's next project is likely to be a musical about Houdini, and an impressive list of collaborators are reportedly on board: writer Aaron Sorkin ("The West Wing," "The Newsroom," "A Few Good Men," etc.); composer Stephen Schwartz ("Wicked," "Pippin," "Godspell," etc.); and star Hugh Jackman.
As for what's happening now on Broadway stages, O'Brien said, "I feel we're recycling seasons every 4 years. Do we really need to see 'La Cage aux Folles' again? … The great problem is that everything is so expensive. Budgets and costs are inflated so much that when someone puts a show up, rather than take a chance, they pull a chestnut out, hire a movie or television star, and get 15 or 16 weeks out of it. … I think it's too bad, and I despair about where the new creative impulses will come from."
Jenn McKee is an entertainment reporter for AnnArbor.com. Reach her at jennmckee@annarbor.com or 734-623-2546, and follow her on Twitter @jennmckee.