Posted on
Wed, Jan 9, 2013 : 5:16 a.m.
Top area talent on tap for ragtime and early jazz revue Saturday at Michigan Theater
By Roger LeLievre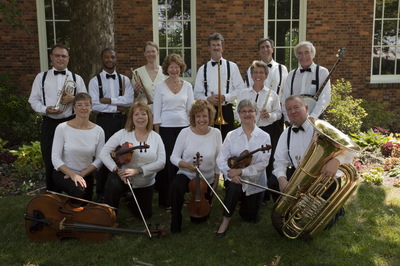 Are you ready to revel in some ragtime? William Pemberton, executive director of the
River Raisin Ragtime Revue
, hopes so. His group will offer an evening of vaudeville, burlesque and music hall tunes Saturday night at the Michigan Theater.
This will be the second such concert. One last year at Weber's sold out all 250 available seats.
"I think a lot of people who came last year, and a lot of people who come to our shows for that matter, aren't familiar with ragtime and early jazz, but it's very, very pertinent to contemporary audiences. The music is infectious; it's a ton of fun," Pemberton said.
Performing, in addition to the 13-piece, Tecumseh-based River Raisin Ragtime Revue (aka R4), will be the acclaimed local song duo of William Bolcom and Joan Morris, internationally renowned ragtime and jazz pianist and composer James Dapogny, Grammy winner Ian Whitcomb on ukulele and vocals (some will remember Whitcomb from his British Invasion days as a mop-haired pop-star singing the hit "You Turn Me On"), burlesque dancer Lily LaRue from Hollywood, Calif., and dancers Erin Morris and the Ragdolls.
The evening will be hosted by John Neville-Andrews, professor of theater (acting and directing) and head of performance at the University of Michigan School of Music, Theatre & Dance.
Pemberton said the idea for the concert came about during a conversation with Joan Morris. "We both had similar ideas of wanting to put on a larger vaudeville show at the Michigan Theater, so we started working together, and fortunately she and (husband/Pulitzer and Grammy-winner) Bill Bolcom know a lot of people. She's the one who contacted her friend Ian Whitcomb to come out and join us, it just kind of grew from there."
PREVIEW
Ragtime Extravaganza
Who: River Raisin Ragtime Revue; William Bolcom and Joan Morris; Ian Whitcomb; James Dapogny; Lily LaRue; Erin Morris and the Ragdolls. John Neville-Andrews, MC.
What: Vaudeville, burlesque and music hall.
Where: Michigan Theater, 603 E. Liberty St.
When: 8 p.m. Saturday, Jan. 12.
How much: $30-$50. Info: Tickets available at ticketweb.com and ragtimeband.org, or by calling 866-468-3401.
Pemberton said to expect "a mix of pure ragtime, which is what the River Raisin Ragtime Revue specializes in - music from the great era 1897 up to about 1920. But we're going to expand and go into some early jazz. We've got Jim Dapogny coming in - he's a Jelly Roll Morton specialist - and Bolcom & Morris will expand on the era too. They'll go into some Gershwin … there will be a good mix from ragtime to early jazz."
There will also be some British popular music from that early era, in particular tunes made famous by George Formby, a British music star of the '30s and '40s, performed by Whitcomb, said Pemberton.
R4 will also premier (retired R4 music director) William Hayes' newest ragtime work and Dapogny's orchestration of a rag that, according to Pemberton, "might have been written by Johannes Brahms but wasn't.
"Obviously American ragtime had a lot of influence on European composers of the day … there was a story of Brahms being visited on his deathbed by a banjo player, there was talk of what kind of rag Brahms would have written. Dapogny went ahead and finished it for him," Pemberton explained.
Opening the show will be The Moanin' Frogs, a vaudeville-era saxophone sextet from the University of Michigan School of Music, Theatre and Dance. "They are out of this world - the perfect setup for a vaudeville show," Pemberton said.