Posted on
Wed, Apr 28, 2010 : 5:25 a.m.
Ypsi is going to be "Totally Awesome" this weekend
By Jennifer Eberbach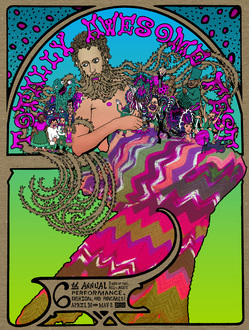 If you are looking for some community-based, DIY (do-it-yourself) entertainment, Ypsilanti has got you covered all weekend. For the sixth year in a row, the Totally Awesome Fest will showcase dozens of bands, numerous performance artists, fashion, pancakes, random activities and plenty of chances to socialize and celebrate each other's company. A series of shows will be held at four different venues and houses around Ypsilanti Friday, April 30 through Sunday, May 2.
VG Kids (884 Railroad St., Ypsilanti) will kick off the party on Friday, April 30, beginning at 5 p.m. Then partygoers will move over to the Dreamland Theater (26 N. Washington St., Ypsilanti) for the rest of the night, beginning at 10 p.m.
The festivities continue all day long on Saturday, May 1 at a DIY house nicknamed The Bungalow, from 11:59 a.m. to 6 p.m. and the Dreamland Theater, beginning at 7 p.m. until close.
Another house nicknamed Grove Gardens will host performances and unique activities on Sunday, May 2, from 11 a.m. until 10 p.m.
View the full Totally Awesome Fest schedule in the AnnArbor.com event listings. The plan is that there will also be maps available during the festival, which you can pick up at the Dreamland Theater.
The first Totally Awesome Fest was held back in 2005 as "a last hurrah" for the Totally Awesome House in Ann Arbor where musician, puppeteer and performer Patrick Elkins use to live with friends Jason Voss, Dustin Krcatovich and Penelope Richardson-Bristol. The friends regularly hosted bands and performances at their house and once a week people joined them for a Tuesday Night Supper Club. After serving as a DIY venue for a bit, Totally Awesome House residents were told that the property was going to be developed into condominiums, which ended up ultimately falling through, and they all moved out. Before leaving the house, "we decided that the last three days that we lived there we were just going to have this festival," Elkins recalls.
Over the years, the soul of Totally Awesome Fest has not really changed, according to Elkins. "It is a celebration of what it is. I don't know if I would ever envision it changing that much," he says. Even if attendance grows, they eventually decide to add another day to the festival, or the event evolves in other hypothetical ways some things remain the same.
PREVIEW
Who: A host of local performers.
What: Mostly music, along with other side activities.
Where: In Ypsilanti at VG Kids, 884 Railroad St.; Dreamland Theater, 26 N. Washington St.; The Bungalow, 711 N. River St.; Grove Gardens, 317 S. Grove St.
When: Friday-Sunday.
How much: Free, donations accepted.
"There's always been a house show component. We always wanted everything to be free and all ages," he explains. That is not to say that the festival is the same every year. "I know when I'm setting up the festival every year I want to integrate more kinds of performance art. It's still predominately musicians" but "it's good to have variety," Elkins says.
"I've been to other music festivals where it's one type of music all day. After a while, you kind of get burnt out on it. I like a variety of stuff. It brings a lot of people together. It's nice," Elkins says.
This year's festival will feature local and out-of-town bands who play music that runs the gamut from noise music to folk rock. There will also be a number of additional performers and creative types out there doing their thing including another installment of Ben Miller's ever-popular "Take Home Fashion Show" all day long on Saturday at the Bungalow. Elkins is also excited about a new performance piece by Aimee Adams' alter-ego from her days in the Tickled Fancy Burlesque Co., entitled "Emogene Nightingale's Octopus Ballet," which will close out Friday night at the Dreamland Theater, beginning at 2 a.m.
Listen to a selection of songs by some of the bands playing Totally Awesome Fest:

Other new happenings at the Totally Awesome Fest this year include their first parade. The Detroit Party Marching Band will act as Pied Piper, leading party goers from the Bungalow to the Dreamland Theater, at 6 p.m. Saturday night.
When Elkins says all ages are welcome, he really means all ages. Although the festival doesn't feature activities specifically designed for children, they are welcome to come enjoy daytime and early evening shows throughout the weekend. He thinks that some of the activities happening on Sunday morning are particularly family-friendly, which include yoga and salsa dancing lessons. Although "later events at the Dreamland Theater are past their bedtime, they can definitely learn how to salsa dance," he laughs.
Beyond showcasing the bands and the performances, Totally Awesome Fest also allows plenty of room for "the magic" to happen, according to Elkins. "Some of the fun of it is the things that aren't scheduled that end up happening. I think that's the magic of it. The first year, we ended up playing basketball like four or five times during the festival and it became this really large part of it," he remembers. Other times, "people show up and play who aren't scheduled," he says.
Even Elkins cannot predict what "magic" might happen this year, he is curious to see whether people will take their "Pancake VVrestling" event's title literally (yes, it is spelled with two Vs) and perhaps end up actually wrestling pancakes at noon on Saturday. However, the last thing he wants to do is "put any constraints or expectations on it. We'll see what happens," he says.
What is more important to Elkins than the event's lineup is the social atmosphere the festival creates. "There is a very celebratory vibe that we try to maintain," he explains. "The social aspect of it is really large. A ton of people hang out. It's the time of year I see people that I haven't seen in a while. It is a holiday of sorts," he concludes.
Jennifer Eberbach is a freelance writer who covers art and music for AnnArbor.com.