Posted on
Fri, Nov 4, 2011 : 4:53 p.m.
'Tower Heist' a well-meaning misfire
By AnnArbor.com Staff
Tower Heist
Opens today at Rave, Quality 16, Brighton
Review by Jeff Meyers of the Metro Times
Grade: C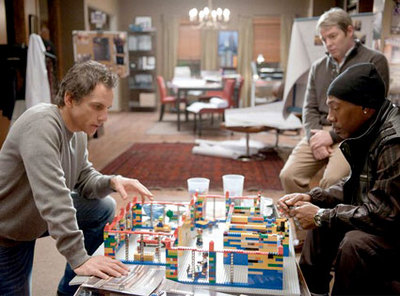 After nearly 20 years of her appearing in films, Hollywood still doesn't know what to do with
Tea Leoni
. Funny, unconventionally gorgeous, whip-smart and blessed with a uniquely husky voice, she's almost always better than the movies she's cast in. Case in point: her thankless turn as an FBI agent in
Brett Ratner
's underachieving exercise in exuberant fluff. Watch her brief drunk scene opposite
Ben Stiller
and it's clear who owns every inch of the screen. Sexy, irreverent, and, most importantly, human, she completely sells a throwaway scene with a throwaway character in a throwaway movie.
The truth is, Ratner's tale of economic comeuppance boasts an entire ensemble of talented actors who outshine an implausible script that, despite a quartet of experienced writers, feels like a first draft.
Casey Affleck, Matthew Broderick, Michael Peña
, and
Gabourey Sidibe
(as an oversexed Jamaican maid) are hopefully cashing hearty paychecks for this mild-mannered misfire.
Read the full review here