Posted on
Sat, Jul 16, 2011 : 5:45 a.m.
Townie Street Party offering locals an evening of free music and art activities
By Jenn McKee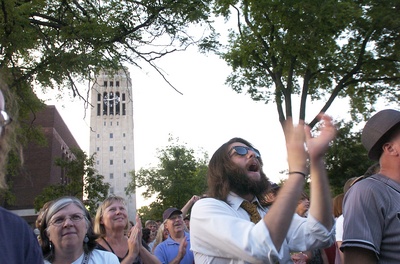 AnnArbor.com file photo
Although thousands of
Ann Arbor Art Fair
visitors will soon take over the streets downtown, and surrounding U-M's central campus, locals can stake their own territorial claim on Monday night, when the seventh annual Townie Street Party happens on East Washington Street, between Thayer and Fletcher.
With live music; art activities; a kids' art fair; food and drink vendors; and an enclosed, private bar for Townie Friends of the Fair, the event provides locals with the chance to gather and enjoy an evening of free outdoor entertainment.
"There are some significant changes this year," said Michelle Schaefer, director of programs and community outreach for the Ann Arbor Street Art Fair, which organizes the Townie Street Party. "Positive changes. Last year, we were on North University, and this year, moving to East Washington creates a much more open site plan, so there's more lawn area to sit on. And you can see the stage better."
Who will be on that stage? Alison Lewis and the String of Ponies, playing from 5:30-6:30 p.m.; Dick Siegel, accompanied by The Brandos, Brian Delaney and Dave Roof, from 6:50-7:40 p.m.; and The Ragbirds, from 8-9 p.m.
Plus, various local organizations will offer attendees the chance to make ceramic tiles, free-moving mobiles, mini-comics, paper bag hats, and geo-art maps; or play Booktionary; or contribute to this year's community art project, a CommuniTree. The project will be a giant woven sculpture made from old, unused phone, computer and electrical cords, created by local artist Leslie Sobel and sponsored by the fair along with AnnArbor.com and the Milan Art Center. Townie Party attendees are welcome to bring unwanted cords to the party for use in the project.
PREVIEW
Townie Street Party
What: Pre-Art Fair party for locals, featuring live music, food and drink vendors, arts activities for kids and adults, a kids' art fair, and more.
Where: E. Washington St., between Thayer and Fletcher.
When: Monday, July 18 from 5-9:30 p.m.
How much: Free. For more info, visit http://www.artfair.org:80/main/main.jsp?id=64.
"The activities are a relatively new addition to the Townie Street Party, and it's something that just took off," said Schaefer. "Last year, there were lines at all the activities. They were all so busy, and I thought, this is something we can easily focus more on. Obviously, the community enjoys them and wants to have even more."
The kids' art fair, meanwhile, also appears to be getting bigger and more popular each year. While more than 70 kids, grades 1-8, submitted their work to jurors (mostly made up of art educators) last year, that number has risen so that more than 90 kids will have their work on display, and on sale.
But for those looking to just have a drink while taking in the evening's live music, there's The Townie Pub or the VIP area called The Terrace, now in its second year at the party. Townie Friends of the Fair who make a $50 donation, $25 of which is tax deductible, each earn admission to the Terrace, which will offer free hors d'oeuvres and drinks. Arbor Brewing Co. will supply beverages for both the Pub and the Terrance.
"It was definitely very successful in its first year," said Schaefer. "But we've tried to make improvements there, too. Attendees are primarily concerned about, 'Can I get my drink? Can I get it fast, and get it in my hand?' So we have a lot more bartenders this year, experienced bartenders, to help things run more smoothly."
Not surprisingly, Schaefer and AASF director Maureen Riley found planning for the Townie Street Party easier in their second year, and aimed to give it an even more local flavor. (Literally in the case of the Terrace, which was run by Bell's Brewery last year.)
"An event this size always takes lots of planning," said Schaefer. "But once you have something good in place, it's easier to keep adding more on top of that to make it even better."