Posted on
Sun, Mar 28, 2010 : 5:10 a.m.
University of Michigan's theater department wrestles with "Trafford Tanzi"
By Jenn McKee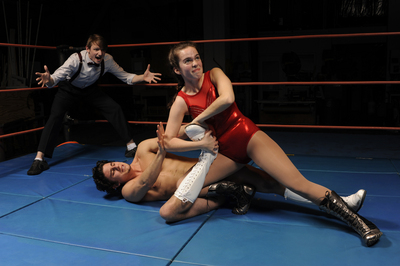 photo by Peter Smith Photography
Running laps is usually something you do while training for a sport, not preparing for a play.
But Claire Luckham's "Trafford Tanzi," now being produced by the University of Michigan department of theatre and drama, isn't your typical show. Combining comedy, drama, music, and physical action, "Trafford" tells the story of a woman, named Tanzi, who fights her parents, a school psychiatrist, her best friend, and her husband — a wrestler himself — in order to become a female wrestler and shape her own destiny.
Set in a professional wrestling-style ring, the play's physical demands on the cast members — each of whom wrestle during the show — are high.
"They arrive at rehearsal, get changed, then they run around the building quite a number of times, and then they have a workout with all the wrestling moves that they do," said director Malcolm Tulip. "They also have to have a music rehearsal before, too, because they sing as well. It's a great piece."
Written in 1978 for Liverpool's Everyman Theatre, which was being renovated at the time, "Trafford" originally played in a series of pubs — which would seem a match made in heaven. The show encourages the audience to cheer and boo its players, so that it has the feel of a sporting event instead of a theater performance.
"When I'm choosing plays to direct, I'm thinking, 'Well, what can I bring to the student body that's unique to my experience? '" said Tulip. "Other faculty directors have different background experiences, so I always think, 'What else can I expose them to that fits into my area of interest and expertise?' And I also love physical work."
---
PREVIEW

"Trafford Tanzi"

Who: University of Michigan department of theatre and drama.

What: Set in a WWE-style wrestling ring, Claire Luckham's "Trafford Tanzi" tells the story of Tanzi, a young woman from a working class area of Manchester, as she literally wrestles her way through life. Tanzi faces her Dad, Mum, best friend, school psychiatrist, and ultimately her husband in round after round for the right to set her own destiny.

Where: Arthur Miller Theatre at U-M's Walgreen Drama Center, 1226 Murfin.

When: Thursday at 7:30 p.m., Friday-Saturday at 8 p.m., and Sunday at 2 p.m., April 1-11. How much: $24 ($9 for students).

Information: 734-764-2538 or online at Tickets.com.
---
Indeed, "Trafford" has been on Tulip's wish list for a long time. So when he came to know Charles Fairbanks — an art and design graduate student at U-M who wrestled in high school and college, and competes in Mexico's lucha libre each summer — the time seemed right.
"It just made sense that he would be the guy to coach the students and help choreograph," said Tulip. "I watched the wrestling that this show is based on in England growing up, so I had ideas, too. … But it would have been very difficult without him."
Meanwhile, the students have been rehearsing in their knee-high boots, watching YouTube clips of English pro wrestlers from the '70s, and getting past some initial nervousness.
"What we saw was hesitation about things that initially seemed out of their skill zone," said Tulip. "Then once they step up and give it a go, you'd work up to a specific drop kick. You'd start by drop kicking an upright man, and then they'd move on to drop-kicking Charles, because Charles was prepared, and if they didn't do it exactly right, he would be fine. … Now they're just drop-kicking and tackling each other."
To make the production feel even more authentic as a professional wrestling match, Tulip chose to present it in the round, with the ring on the Arthur Miller Theatre's thrust stage and seats placed on stage behind it. This way, the students' physical efforts will likely have a maximum impact.
"They've amazed me so far with the skills that they've taken on and mastered," said Tulip, "and with the fearlessness with which they've approached this whole project."
Jenn McKee is the entertainment digital journalist for AnnArbor.com. Reach her at jennmckee@annarbor.com or 734-623-2546, and follow her on Twitter @jennmckee.