Posted on
Mon, Feb 18, 2013 : 10:58 a.m.
Trivia for Cheaters competition to raise money for 826michigan
By Jenn McKee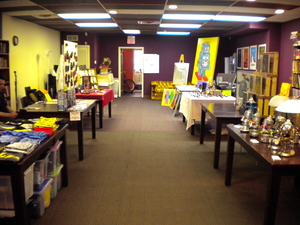 In the past,
826michigan
, which provides free creative writing and tutoring programs to 2,500 youth in the area, has held fundraising events that encourage "cheating"—whether it be in euchre, or Scrabble, or a spelling bee. Now, 826michigan will raise money while contestants answer trivia questions; and those who raise the most money will get the chance to, well, get some help with their answers.
826michigan's Trivia for Cheaters will feature teams of four who will have a month to solicit donations for their team—funds which they can then use to cheat their way through an insanely difficult round of trivia questions, composed by legendary poet and nerd Ray McDaniel, and a genuine "Jeopardy!" champion, 826michigan staff member Amy Wilson.
The competition will be held at Live, at 102 S. First St. in Ann Arbor, on Wednesday, March 20 at 7 p.m., and a cast of special guests will provide entertainment throughout the evening.
"As the recent film 'Answer This!' demonstrated, Ann Arbor is a great town for trivia," said 826michigan executive director Amanda Uhle in a press release. "We're always looking for ways to let our super-talented volunteers and supporters use their unique skills to help bring 826michigan programs to more students in our area, and For Cheaters events definitely harness that power! We can't wait to see how Trivia For Cheaters plays out on stage at LIVE."
Teams of four can register attinyurl.com/Trivia4Cheaters. To learn more about 826michigan and its volunteer-driven services for students aged 6-18, visit www.826michigan.org or 734-761-3463.
826michigan is a non-profit organization dedicated to supporting students aged six to eighteen with their creative and expository writing skills, and to helping teachers inspire their students to write. Services are structured around the belief that great leaps in learning can happen with one-on-one attention, and that strong writing skills are fundamental to future success. For more information, visit www.826michigan.org.
Jenn McKee is the entertainment digital journalist for AnnArbor.com. Reach her at jennmckee@annarbor.com or 734-623-2546, and follow her on Twitter @jennmckee.