Board Game Reviews
Critical Hits:

Triviathon: A party game best played with two players

Posted on Tue, Jan 11, 2011 : 11:35 a.m.
I've mentioned before that I don't care for most party or trivia games, but Triviathon is a game that interested me nonetheless. The best way to explain Triviathon is to show you an example question. [answers will be at the end of the post]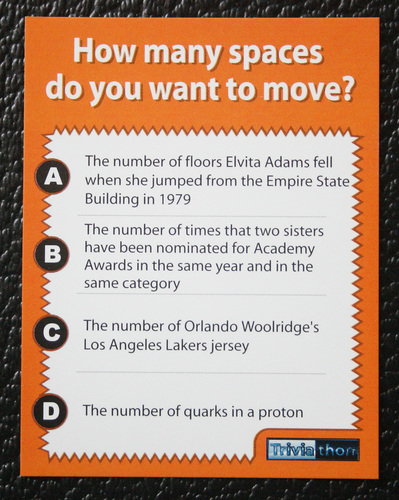 One answer will move you three spaces, one will move you two spaces, one will move you one space, and one no spaces.
Triviathon claims to be a trivia game where you don't have to necessarily know trivia and can expect to pick up a few weird facts along the way. Let's take a look at how the game plays to see if the question cards make the game:
A) Fun
B) Too random
The board for Triviathon is a circular track with about 25 spaces. The first person to the finish line wins. In addition to the questions like the ones above, there are two other question types: list questions and color questions, as seen below.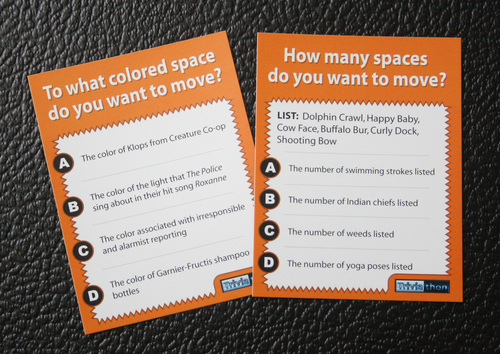 The questions are what sucked me into the game. If you're one of those people that likes reading Wikipedia for fun, this could be your kind of game. I don't know how they researched all of their different questions, but they did a great job drumming up a lot of interesting questions across many topics.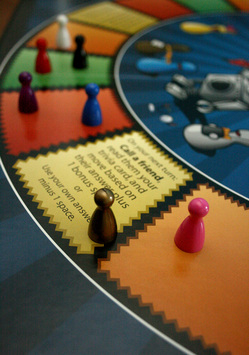 Mike Hulsebus | Contributor
You're unlikely to know the answers to any of the questions. This does set up for fun decisions: should you take the answer that you're pretty sure will move you two spaces, or should you guess at what might move you three places? Other times, the questions make you feel as if you're making random guesses. There are questions with answers you might know the answer to, yes, but there are enough trick questions in the mix to make you doubt that you can think out the options. You may think that a certain species of lizard must have either zero or two eyes only to find out that it has three.
There really isn't a great way to make an educated guess because of the sort of questions offered. In Wits and Wagers, I could do some math to guess how many cups of coffee the average American drinks in a year, but I have no clue how to guess facts about species of plants. Wits and Wagers is a trivia game for everyone because everyone can make a decent educated guess or bet on who might know the answer. Triviathon, despite what its box claims, is not a trivia game for everyone.
Problems aside, this is a decent two-player game since playing the game is a fun excuse to go through the great question cards. Sure, the winner may be the person who got luckiest on their guesses, but it still makes for a fun time. I like the idea that, because there is an element of luck, a trivia master wouldn't necessarily win 100 percent of the time.
The game, however, is intended as a party game that plays all the way up to 12 players. I recently got the chance to play it with eight players, and I have to say: I don't recommend it. It takes forever. At one point I just had everyone each draw five questions and resolve them to themselves to save time. This saved us going through 40 cards and shaved probably an hour or more off of our play time. I have no idea how the box can claim this is a "fast-paced" triva game.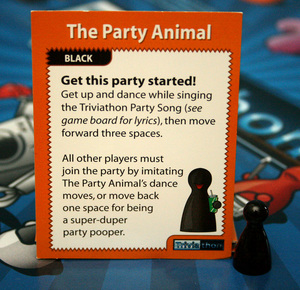 Mike Hulsebus | Contributor
Triviathon makes for a poor party game because there is nothing to do when it isn't your turn and you do a lot of waiting. You can't get around this by playing game-show style, reading the questions aloud, because there is too much text for a player to hold in his head when it's being read to him, especially when it comes to the list-based questions. I don't want to hang around and watch other people answer questions for two hours. I want to play the game. The game feels as if the designers spent all their time writing great questions rather than playtesting the game.
Next time that I play with a large group, I'm looking forward to playing it with a variant that I've seen suggested online: everyone answers the same question, revealing their answers at the same time. In addition to cutting the eight-player game's two-hour game time down to about 15 minutes, this would also give everyone something to do all the time.
If you are looking for a decent two- or three-player trivia game and had fun answering the questions in this entry and have other players that enjoy trivia games, I think that Triviathon is a safe bet. If you're looking for a good party game, I would advise you to look elsewhere.
I got my copy through a trade, but If you're interested in getting Triviathon, the best way is likely online, as it had a pretty small print run when it came out in a few years ago.
ANSWERS: