Posted on
Sun, Nov 18, 2012 : 12:11 p.m.
Try (potentially embarrassing, but at least you tried) new things this week, such as storytelling or ice skating
By Ann Dwyer
STORYTELLING
It's time again for "The Moth: Live Storytelling" at Circus Bar & Billiards on Tuesday. Doors open at 6 p.m., stories begin at 7:30 p.m. Each show starts with a theme, and the storytellers explore it, often in unexpected ways. Each story is true. This week's theme is (appropriately) "Gratitude." There's sure to be some Thanksgiving horror stories. $5 at the door. 210 S. First St., Ann Arbor.
MOVIES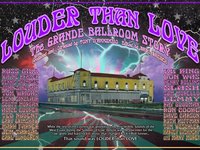 In case you missed it the first time, the film "Louder Than Love" returns to the Michigan Theater on Monday as part of the Motor City Movies: Discovering Detroit series. 7 p.m. During the late '60s the Grande Ballroom in Detroit stood as the epicenter of the Detroit rock music scene that spawned bands such as Iggy & The Stooges, Alice Cooper and many more. See rare archival footage and interviews by surviving musicians. $10/ general admission; $8/ students, seniors and children under 12. The Michigan is at 603 E. Liberty St., Ann Arbor. 734-668-8397.
MAKE
You might not realize it, but there's a place in Ann Arbor that lets you do cool stuff beyond what you thought you could ever do. And on Thursday nights, they'll show you how. "Build Night" at All Hands Active lets you work on projects using cool tools from common hand tools to sewing machines and even the 3D printer and laser cutter (you'll have to be taught how to use those, though). 7:30pm - midnight. Bring a project or just watch genius happen. Free. 525 E Liberty St., Ann Arbor. Go here for more information: www.allhandsactive.com
PLAY
Yes, it sucks when it gets cold, but there is an upside: Ice skating! Two venues are now open and available so you show off your triple salchow or humble yourself as you try to gracefully get up off the ice. Veterans Memorial Park: Open skate: Tues./Wed, 1:20-2:45 p.m.; Thurs., 11 a.m. to 1 p.m.; Sat, 1-2:30 p.m.; Sun,: 1-2:30 p.m. Adult Skate: Mon-Wed, 11:10 a.m.-1:10 p.m.; Fri, 11 a.m.-1 p.m. Patch/Freestyle Skate: Fri, 10-10:50 a.m. Residents: Adults $5; Youth/Senior $4; Skate Rental $3. Non-residents: Adults $6; Youth/Senior $5; Skate Rental $3. 2150 Jackson Ave., Ann Arbor 734-761-7240. Buhr Park: There will be open skating on Wed. and Fri. Noon-2 p.m. For skating times and details call 734.794.6234 or visit http://ww.a2gov.org/buhr. 2751 Packard Road, Ann Arbor 734-794-6234