Posted on
Wed, Jul 3, 2013 : 10:20 a.m.
Try Seoul Garden for delicious Korean barbecue
By Kim Bayer
For the past several years I've been on a mission to discover the best Korean food in Ann Arbor. It's a great quest because there are so many good options from which to choose. Although I'd be hard pressed to give a single definitive answer, I have narrowed down some favorites, and among those I would include Seoul Garden. Although it's far from downtown and hidden away in an industrial park near Briarwood, it is one place that has real cook-it-yourself Korean barbecue and that is reason enough to truck all the way over to the Boardwalk location.
Voted best Korean restaurant in Ann Arbor in a 2011 annarbor.com poll, Seoul Garden calls itself a "Korean and Japanese restaurant." And it does offer sushi and a few Japanese specialties. The serene ambience as you enter feels Japanese, including a little Zen rock garden and several large rooms in neutral colors, nicely appointed with wood floors and divided by rice papered doorways. A pretty blue and white noren curtain hangs over the centrally situated sushi bar.
RESTAURANT REVIEW
Seoul Garden
3125 Boardwalk, Ann ArborI
734-997-2121
aaseoulgarden.com
Hours: Lunch: Mon-Fri 11:30 a.m. to 2:30 p.m. Dinner Mon-Thu 2:30 p.m. to 10 p.m., Fri 2:30 to 10:30 p.m., Sat noon to 10:30 p.m., and Sun noon to 10 p.m.)
Plastic: Visa, Mastercard
Liquor: Beer and wine
Prices: Moderate
Don't be fooled by the atmospheric trappings, though; the thud factor of the gigantic menu is weighted 90 percent toward Korean dishes. The menu includes numerous choices for Korean barbecue and Korean hotpot dinners, and in my humble opinion the Korean side is where diners should focus their attention.
You don't have to order Korean barbecue — there are other good options. We especially love number 72, "je yook kimchi bokum," with spicy kimchi and pork stir fried and served on a bed of snowy white tofu. And the crispy seafood pancake, as big as a plate, is excellent with tender squid and green onion. I was surprised that the translucent potato starch japchae noodles with slivered carrot and sliced onion here are served warm — I've only had them cold before.
The kimchi stew is good, spicy hot, and thick with kimchi and pork. The dolsot (stone bowl) bibimbap is respectable, with a nice crust of crispy rice to pry off the smoking hot bowl - but all of the vegetables are cooked so the crispy textures and tart pickle flavors were missing for me.
Also, the banchan side dishes that come with the Korean meals at Seoul Garden are good. A scoop of creamy potato salad, thin slices of fish cake in a sweet soy marinade, house-made kimchi, garlicky steamed broccoli, and a little bean sprout salad with soy and sesame.
No, you don't have to order the Korean barbecue, and you could eat at McDonald's when you go to Paris. But that would be silly. Where else do you have the chance to cook Korean barbecue at your own table? It's like grilling in the backyard, but it's indoors, someone else has done of the prep work, and someone else is doing all the clean up. You can have Korean barbecue with two people or with 12, and the version at Seoul Garden has much to recommend it.
Unless you're ordering appetizers (the gyoza dumplings and seaweed salad are good), the first and only decision to make is which kind of meat you want. You can get marinated or un-marinated beef, with or without bones in it (most of the Korean diners seemed to be choosing the un-marinated beef). Spicy (or not) pork, chicken or shrimp. Scallops, or a seafood combo. There's even a vegetarian version with thick slices of sweet potato, peppers, onion, broccoli, and mushroom.
Once you've placed your order, just sit back and wait for things to happen. First your server will light the gas-powered grill in the middle of your table to hot it up. Then the dishes start coming: a basket of super fresh red-tinged lettuce leaves, a bowl of green onion salad marinated in soy, sesame and garlic, a bowl of ssamjang paste, and then a huge platter of raw meat and vegetables. The server will get things started by putting the raw food on the hot dome of the cooker, but then it's up to you to grill it like a boss.
Once the food is cooked, you make a little Korean taco by wrapping a lettuce leaf around the umami grilled meat with some green onions and ssamjang, and rice if you like. Open mouth, insert package, and voila, you're eating Gangnam style.
In the name of research, we did also try the food on the Japanese side of the menu, but were much less excited about it. The hot miso soup was salty and savory with tiny pieces of tofu and green onion, but the iceberg lettuce salad that comes with the dinners was soggy and bit brown around the edges.
My yakisoba fried ramen noodles were packed with lots of vegetables, including both wood ear and oyster mushrooms, onion, and carrot, and the worcestershire-spiked sauce was good too — a little tangy, sweet, and spicy. There was also shrimp in abundance, but they tasted old and flat. Similarly, my husband's pork don-katsu came in a generous portion and was deep-fried to a beautiful golden brown. But describing the flavor of the pork as bland would be compliment.
Dining companions ordered the sashimi and sushi combo dinners, which came on enormous white platters with all the usual suspects: tuna, salmon, mackerel, spicy tuna roll and more. Again, the portions of fish were large, exactingly cut, and the pieces that I tried were fresh — but our friends were unimpressed. The only comment was "the fish is very tender." Given the location of Seoul Garden, I'd guess that they are aiming at a "businessman" lunch and after-work crowd, so perhaps it's enough that the portions are large and freshly made.
I was also disappointed that there are no traditional Korean or Japanese desserts on the menu. Seoul Garden's dessert offerings include only mid-quality ice cream: large portions flavored with green tea, red bean or vanilla.
The restaurant was not busy on either night we were there, and the few waitstaff on duty were friendly and accommodating, checking in frequently and re-filling water and tea often. Both times we went I was able to gather intel on the art of Korean barbecue by surreptitiously observing the groups of older men and animated tables of students who ordered huge platters of food and expertly grilled while chatting in Korean.
Anyone who loves the convivial pleasure of a joint cooking venture should give the Korean barbecue at Seoul Garden a try—it's a delicious and novel way to experience Korean cuisine and it's a fun evening out with a group of companions.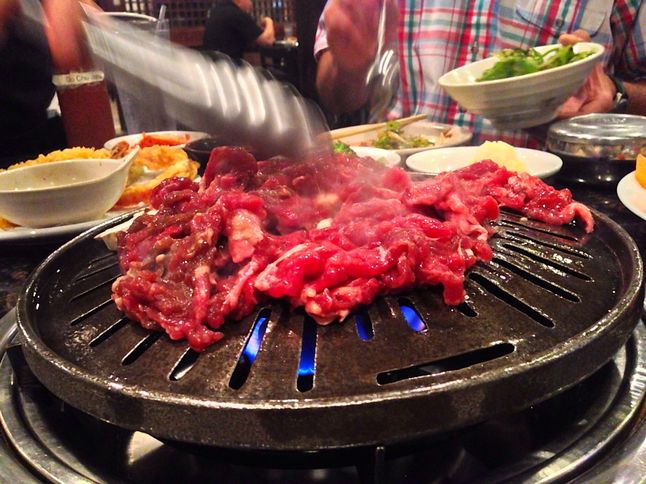 Photo by Bob Kuenhe
Kim Bayer is a freelance writer and culinary researcher. Email her at kimbayer at gmail dot com.