Posted on
Thu, Mar 28, 2013 : 1:01 p.m.
Twinkie Run to benefit ALS research and remind us that Twinkies are no longer available
By Ann Dwyer
Remember when Hostess went bankrupt? Luckily their shelf life won't stop the April Fool's Day Twinkie Run 5K at Gallup Park & Canoe Livery. OK, it might just be a reasonable facsimile, but there will be baked goods involved.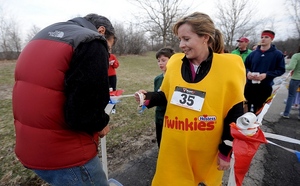 The event benefits ALS (Lou Gehrig's disease) research and is a great way to unite junk food and exercise.
Believe it or not, Twinkies (or their knockoffs) will actually take off time from the runners' finish. They will have the opportunity to eat one at the beginning and at the midpoint to take a minute off their time.
For participants, there will be medals for the first 200 participants and pint glasses for age group awards. There will also be a homemade Twinkie contest.
Register online: a2a3.wufoo.com/forms/s7x1a3/.
Monday, April 1, 2013. 6:15 p.m. Race number pickup starts at 5:15 p.m. $15 registration. $12 for a T-shirt. Gallup Park & Canoe Livery is located at 3000 Fuller Road, Ann Arbor. 734-794-6240.