Posted on
Mon, Apr 29, 2013 : 5:27 a.m.
Two local business owners also pursue art careers
By Jennifer Eberbach
You might describe both David Landau and Traven Pelletier as today's version of Renaissance men. They both juggle owning businesses and pursuing art careers.
Landau's main focus right now is running his new business development consulting firm Scale Fire Group. But on top of being a business owner, Landau is steadfastly passionate about his career as an abstract artist.
"Art has been a long-term passion. It hasn't been a passing fad, and it's much more than a hobby," says the young entrepreneur whose diverse array of past endeavors includes Elysium Painting Company and Tribbio Studios, where he used to teach entrepreneurial skills to artists via internships and workshops.
It was a moving day for Pelletier when he spoke with AnnArbor.com. He was in the process of setting up his new nursery and garden center, BLOOM!, which will also be the new home base for his landscaping design services, Elemental Designs.
Opening up BLOOM! will also likely open up doors for Pelletier as a sculptor who makes commissioned artworks. He has already made a number of commissioned artworks in concert with landscaping jobs. For example, a backyard revamp can include sculptures for the garden or the patio. Pelletier is also known as the local public artist who created the tree sculptures in West Park, a series of salvaged metal outdoor sculptures near the park's band shell.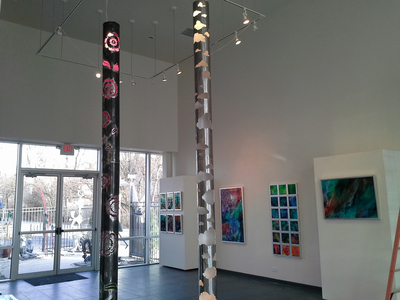 The two artists and entrepreneurs happened to share gallery space earlier this month, as both were
featured at the Malton Art Gallery, Cincinnati, in the gallery's exhibition "Light Matters."
Landau's illuminated glass paintings, "Abstract Illumination Series," and Pelletier's series of "Elemental Totems," monumental sculptures lit from the inside, were on display there, with artists giving credit to their agent
Angela Brookbank-Kline
for helping promote them to the gallery.
David Landau likes his day job
"Having another source of income as a entrepreneur removes the pressure to produce from the freedom to create," Landau says.
"If you are an artist living off your art full-time, it is difficult to separate your art from commerce," Landau says. That is not to say that he is disinterested in attracting collectors and selling pieces. It just sounds like not having to solely rely on art for income frees him up creatively.
Landau's artistic process is frequently time consuming and complicated. For example, he used complex processes to create his series of illuminated glass paintings on display in Cincinnati.
"Right now, I have time to make one of two major collections a year. Getting to the sustainability goal is critical," Landau says.
Landau is most focused on growing his own art career right now. But he also has a track record of collaborating with others and reaching out the greater art community. He offered his business advice to artists at Tribbio. And he founded the UM Mural and Sculpture Club as an undergraduate student.
At the moment, Landau's attention is on Scale Fire Group and developing his own art career. However he also hopes for "an eventual revival of something like Tribbio. But I'd want to do it much bigger and seek a big endowment."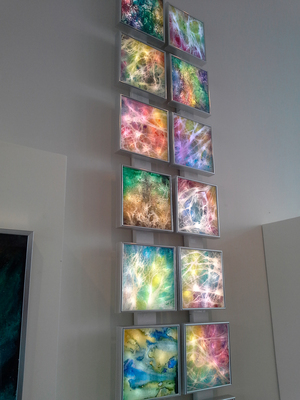 Although highly abstract artworks, Landau's illuminated glass paintings are partly inspired by images from science such as microscopic imagery, neurons, and space nebula. But the artworks are not meant to be representations of those things.
"All the work most of my life has been drawn from abstract concepts of joy," he explains. "In a metaphorical sense, I try to create pieces that uplift the soul and make people feel more light hearted."
"My art also draws from pure imagery, from a psychological concept or a pure idea," Landau says, reflecting on his approach to abstraction. The types of imagery that inspire him "are abstract enough to convey a sense of wonder and excitement, and bring out the creativity of the viewer," he explains.
Traven Pelletier sees a lot of potential for BLOOM!
Throughout his life, Pelletier has gone back and forth between landscaping and being an artist. Before moving to Ann Arbor and co-founding Lotus Gardenscapes over a decade ago (the company remains in the hands of his business partner), one of his many endeavors was an artist residency and fellowship in Provence Town where "I lived out in this dune shack at the each of the sea. I invited artists to come stay out there and make art," he says.
As far as art goes, Pelletier likes doing site-specific sculptures that he makes especially for a particular place. Doing work on commission—whether for someone's backyard or West Park—is more of his cup of tea than making artworks and then trying to find a place for them.
"I'm not really a studio artist. I need a project and a deadline. I don't like to just go play in the studio. There has to be some other element involved in it to drive me," Pelletier says. "Doing large scale works is expensive and time consuming. And then how can I sell them? Doing them site specific is better for me."
BLOOM! also has room for other people's art, according to Pelletier. "It is really nice having the garden center in this old historic barn. We have a space in the barn that we can use as an art gallery," he says. "Eventually, we want to have art there that relates to gardening and landscapes in some way," he says about the space's potential.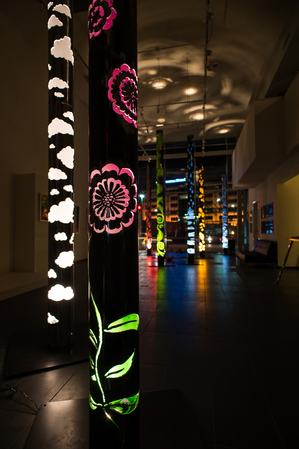 There is a cool thread between the "Elemental Totems" Pelletier has on display in Cincinnati and his public art at West Park. "When I was doing the West Park trees, I wanted the trunks to be tapered mental columns like lamp poles. I had some pipes that weren't wielded correctly. They were sprung at the seam. So, I took those extra pipes and started cutting shapes into them. I thought, wow, that would look really cool lit up from the inside," he explains.
Later on, he tried out the idea for one of his landscape design clients. "Last year, I had this project from a client in Dexter where they wanted some kind of cool sculpture in their patio. I made light poles with leaves and acorns cut into them. Basically it was like a family totem. And I got to create the first body of work of this type," he explains.
The idea led to his series of monumental metal sculptures, "Elemental Totems," which are inspired by earth's elements and lit from the inside.
Making the artworks for a gallery space was something different for the site-specific sculptor. "It was my first foray into having a product - more of an object to be installed in the gallery space," Pelletier says.
There have been periods of time when Pelletier tabled his art to focus on the landscaping side of his life. But in recent years, he has been more active. "Years later, I have enough experience and reputation that the sculpture thing can happen too," he says.