Posted on
Wed, Feb 8, 2012 : 5:50 a.m.
U-M Ballroom Dance Team to host 12th annual competition
By Jenn McKee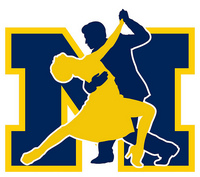 If your interest in dance skews "strictly ballroom," you might want to check out the
12th annual University of Michigan Ballroom Dance Competition
, happening all day Saturday, Feb. 11 at Saline Middle School.
428 competitors from 23 different schools - including Purdue, Notre Dame, Ohio State, Wisconsin, Northwestern, and Michigan State - will be competing in various skill level categories, concluding with an "open event" late in the day at approximately 6 p.m., and finally a showcase performance by Victor Fung and Anastasia Muravyeva - a dance team now ranked third in the world in Standard Ballroom dances (waltz, tango, foxtrot, quickstep) - at approximately 7:30 p.m.
Fung and Muravyeva will also offer a two hour workshop on Sunday, Feb. 12 from 10 a.m. to noon at the U-M Michigan Union ballroom; to register, visit uofmballroom.com/clubpost/uofmballroom/cat?category=Umichcompetition&tags=Workshops%20Registration.
PREVIEW
The 12th Annual University of Michigan Ballroom Dance Competition
What: All-day ballroom dance competition, featuring students from 23 colleges, concluding with a performance by Victor Fung and Anastasia Muravyeva—a dance team now ranked third in the world in standard ballroom dances.
Where: Saline Middle School, 7190 N. Maple in Saline.
When: Saturday, Feb. 11, from 8 a.m.-9 p.m.
How much: $10 (students admitted free). Those who can't attend in person can watch the event streaming live at www.ustream.tv/channel/university-of-michigan-ballroom-dance-comp-2011.
While many of the dancers in the newcomer, bronze, silver and gold levels of Saturday's competition are limited in terms of what steps they may use, and may not wear the fancy costumes showcased on shows like "Dancing with the Stars," the open category allows skilled, experienced performers to strut their stuff physically and, as far as costumes go, go all out.
"You can use whatever moves you want," said Janine Roffle, a U-M senior from Okemos who will be competing on Saturday. "It's at your discretion. At that point, you have enough experience to create your own choreography, or have a coach create it for you, and to interpret the music in whatever way you wish."
U-M's ballroom dance team recently won its 7th consecutive national championship at the Ohio Star Ball in November, but Saturday's competition will be about couples competing against one another.
"What's great is that the $10 admission is good for the whole day, including the professional showcase, and people can come and leave as they please," said Roffle.
Plus, those who can't attend the competition in person can watch it streaming live at http://www.ustream.tv/channel/university-of-michigan-ballroom-dance-comp-2011; the event will also be featured on the Detroit affiliate of CBS, channel 62, after February 18 - details regarding day and time are still being worked out.
While not all members of U-M's team will compete on Saturday, the team has 150-200 members. According to Roffle, the team recruits about 100 newcomers each semester - some stay, and some leave—and an active local alumni base plays a supporting role.
"We've really grown," said Roffle. "12 years ago, there were 30 people when we started, and there's 150 to 200 of us now. Most of that is because we have great coaches (Steve and Susan McFerran), who dance at international level themselves. … They're the glue for our team. … We're very tightknit."
Jenn McKee is the entertainment digital journalist for AnnArbor.com. Reach her at jennmckee@annarbor.com or 734-623-2546, and follow her on Twitter @jennmckee.