Posted on
Sat, Dec 3, 2011 : 5:47 a.m.
U-M department of theater and drama applies 'The Beaux' Strategem'
By Jenn McKee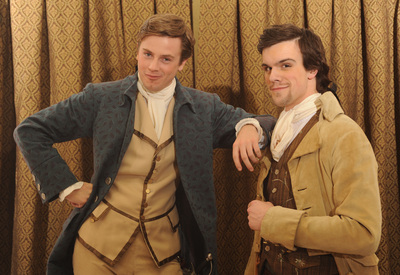 photo by Peter Smith Photography
When something big is on the horizon, late-night talk show host
David Letterman
often admonishes his audience to "hang on to your wigs and keys, ladies and gentlemen."
But these days, the 16-person cast of the U-M department of theatre and drama's production of "The Beaux' Strategem" is hanging on to not only its wigs, but its corsets, period costumes, swords, elaborate set pieces, and Restoration comedy sensibilities.
Written by Irish playwright George Farquhar while on his deathbed in 1707, "Strategem" tells the story of two men, Archer and Aimwell, who strike out for the country in order to find a rich wife for one of them, so that they may continue to live in luxury. (They have squandered their own fortunes.) But when the men pose as master and servant, true love soon thwarts their plans.
The show was an instant success. And in 1939, "Our Town" playwright Thornton Wilder revisited the script in order to adapt it for a modern audience; but he wasn't able to complete the project.
"He didn't get stuck," said director Priscilla Lindsay. "He just needed to do something that would make him some money, so he had to stop and put ('Strategem') away. … He never got it out again, but (his nephew) unearthed it, literally got it out of the attic, and he admired what his grandfather had done. So he met with Ken Ludwig, and talked about it, asked if he'd like to take crack at it himself. And Ken did."
Consequently, the version of "Strategem" co-adapted by Wilder and Ludwig ("Moon Over Buffalo" and "Lend Me a Tenor") premiered at Washington D.C.'s Shakespeare Theatre in 2006, earning much regard and attention.
PREVIEW
"The Beaux' Strategem"
Who: University of Michigan department of theater and drama.
What: A play by George Farquhar, adapted by Thornton Wilder and Ken Ludwig, about 2 minor aristocrats who set off for the countryside, aiming to marry into wealth in order to continue their lives of pleasure. Posing as master and servant, their caper is soon thwarted by an unexpected twist: true love.
Where: Power Center, 121 Fletcher.
When: Thursday at 7:30 p.m., Friday-Saturday at 8 p.m., and Sunday at 2 p.m., December 8-11.
How much: $20-$26.
"It's so accessible for modern audiences," said Lindsay. "It's about everyday people, and their everyday foibles, and fun things that can go wrong and right about love. … I think it's more accessible than other Restoration comedies that are more arch, and are all about style. Farquhar's plays are delightful, and full of wonderful plot twists. Crazy things happen. … But everything comes out fine in the end. And that's how it should be.
Lindsay takes pains to point out, however, that while the play is a comedy, it's not a straight-up farce.
"There are farcical elements, of course," Lindsay said. "But there's a lot of heart in this piece, too, and that's what we're discovering. The characters are real and heartwarming. The actors are always walking a line between heartwrenching, serious moments and comic moments."
The script was what initially sold Lindsay on "Strategem" ("I loved it the minute I read it," she said), and by her account, the students have been similarly charmed.
"They're just loving it," said Lindsay. "Comedy's comedy, and funny is funny, and once they realized that, they were off to races. They've been very inventive in regard to the style of piece, and what they can bring to it."
Jenn McKee is the entertainment digital journalist for AnnArbor.com. Reach her at jennmckee@annarbor.com or 734-623-2546, and follow her on Twitter @jennmckee.