Posted on
Fri, Jan 11, 2013 : 12:18 p.m.
U-M grad and cancer survivor Alex Kip aims to raise money for world premiere show in Ann Arbor
By AnnArbor.com Staff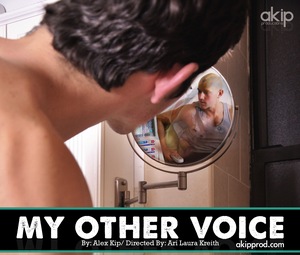 Two years after graduating from the School of Music, Theatre and Dance at the University of Michigan -Â an event that was immediately preceded by a terrifying diagnosis of cancer that threatened to end his career before it began - actor and playwright
Alex Kip
has completed a play based on his experience. Titled "My Other Voice," the work will have its world premiere next summer in Ann Arbor when it is performed at the Arthur Miller Theatre on the campus of U-M. The show, directed by
Ari Laura Kreith
, will run from Aug. 15-Sept. 1.
Kip, 25, a native of Columbus, Ohio, received his BFA in musical theatre from U-M and is also a graduate of the London Dramatic Academy. He was given a 15-30 percent chance of survival after being diagnosed with non-Hodgkins lymphoma as a senior at U-M. During subsequent treatment at the U-M Medical Center, Kip lost his voice. "No longer able to speak or sing," he said, "I had to find a new identity." Now in complete remission, Kip wrote "My Other Voice" with the goal of providing inspiration and hope to other cancer patients, particularly young adults, whose survival rate for cancer has not improved at the same rate as other age groups. At the same time, cancer incidence among young adults has increased more than any other age group, becoming the number one disease killer in that population.
"My hope is that this play will spread awareness of the unique difficulties young adults experience when diagnosed with cancer, while also giving patients hope for the future," said Kip. "Maybe it can be used as a teaching tool for doctors in training, or help this underserved group secure the age-appropriate resources they need. I want it to act as a patient advocate for young adult cancer victims."
Kip is now in the process of raising the $10,000 needed to present the play's world premiere in Ann Arbor next August. He has reached nearly a third of that goal via the "crowdfunding" website Indiegogo.com/myothervoice, where individuals can make donations of any amount and receive a range of "perks" based on donation level.
Prior to the play's upcoming premiere, it has received several readings with industry professionals in New York City and had a staged reading in Columbus, Ohio. The Ann Arbor production will feature U-M faculty, students, and other industry professionals both on stage and behind the scenes.
Here's a clip the NBC affiliate in Columbus, Ohio aired when "My Other Voice" was having a staged reading in the area.