Posted on
Mon, Nov 16, 2009 : 5:07 a.m.
U-M grad James Ludwig stars in "The 101 Dalmatians Musical," coming to Detroit
By Jenn McKee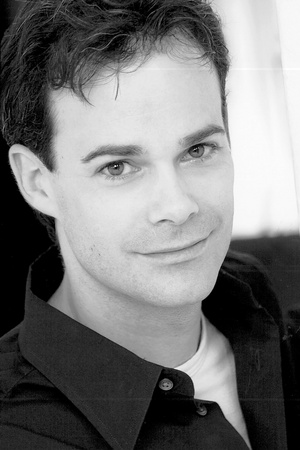 U-M grad James Ludwig stars as Pongo in "The 101 Dalmatians Musical," coming to Detroit's Fox Theatre this month.
U-M grad James Ludwig has officially gone to the dogs, starring as Pongo in the new touring production of
"The 101 Dalmatians Musical,"
playing at Detroit's
Fox Theatre from November 17-22
.
And while playing a dog has its own challenges, the human characters (like Cruella De Vil, played by headliner Rachel York) in the show have to perform on 15-inch stilts.
"It's really hard," Ludwig said during a recent phone interview. "They spent first week just getting used to those things. They do everything in them, so a huge part of show involved just keeping the actors safe. … The trade-off for me is, because I'm the daddy dog, I'm working with eight kids in the show, so we joke that the kids are our stilts."
Indeed, it's universally acknowledged that the most unpredictable performers to work with are kids and animals, and "Dalmatians" has both; 15 rescued, trained Dalmatians are also part of the production.
"The dogs are still learning the show, just like we are," said Ludwig. "If a human messes up on stage, you can take care of it pretty easily. But if dog messes up, you have to go back if you can and — if the situation supports it and it's safe — let the dog do it again. Because you can't let the dog un-learn what it's supposed to do."
The dogs are traveling in what Ludwig and his castmates call a "rock star bus" — "It's swank. It's really nice," said Ludwig — and tend to draw the bulk of the audiences' affection.
"We all joke about how we're on stage, busting our butts for two hours, and the crowds are always, like, 'Nice to see you. Where are the dogs?'" Ludwig said.
Ludwig came to U-M in 1985, from Iron River, Michigan. Arts programs had been cut from the schools while he was growing up, so he came to U-M having no experience with theater.
"I was pre-med at that point," said Ludwig. "My father was a doctor, so I took pre-med classes for a year, and then sophomore year, someone said, 'You should take an acting class, it's fun.' And so I did, and it clicked."
Though he didn't major in musical theater, department director Brent Wagner let him enroll in some of the courses.
"When I left Michigan, I thought, I know how to do this kind of, but not really," said Ludwig. "So I went to the University of Washington to get a fine arts degree in a conservatory style program, and then I went to New York and got an agent."
Ludwig went on to perform in "Spamalot" and "Little Shop of Horrors" on Broadway, among other projects.
And while we usually associate "Dalmatians" with Disney's 1961 animated feature, the stage musical has a score by former Styx frontman Dennis DeYoung and no ties to the Disney film.
"It's a much purer take on the book," explained Ludwig. "The whole point of book, really, is that it's told from dog's perspective. The owners are the pets and the pets are the owners, so the story's in service to the animals. That aspect is really prevalent in the show, and a couple of the laughs really speak to that."
"Also, Disney branded it specifically as a children's story, but in the show there's humor aimed specifically at adults that kids aren't going to get," said Ludwig. "A lot of the humor is about parenting, and there are a lot of knowing nods out in the audience."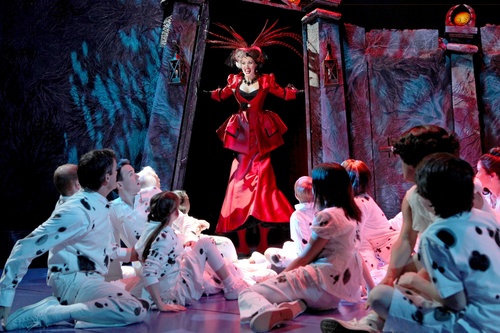 Rachel York stars as Cruella De Vil in "The 101 Dalmatians Musical," alongside Ludwig and 15 rescued dalmatians.
PREVIEW "The 101 Dalmatians Musical" What: North American tour of a new stage adaptation of Dodie Smith's book, "101 Dalmatians," which tells the story — from a dog's point of view — of the kidnapping and rescue of several Dalmatian puppies. Rachel York stars as Cruella De Vil, and U-M grad James Ludwig stars as Pongo. Where: Fox Theatre, 2211 Woodward Ave. in Detroit. When: 7:30 p.m. Tuesday-Thursday, 8 p.m. Friday, 2 and 8 p.m. Saturday, and 2 p.m. Sunday, November 17-22 only. How much: $20-$72. Info: Tickets available at Olympia Entertainment, Ticketmaster, or 1-800-745-3000.
Jenn McKee is the entertainment digital journalist for AnnArbor.com. Reach her at jennmckee@annarbor.com or 734-623-2546, and follow her on Twitter @jennmckee.
Watch a preview of "The 101 Dalmatians Musical":