Posted on
Sun, Nov 20, 2011 : 7:11 a.m.
U-M grads Pasek and Paul score 'A Christmas Story: The Musical'
By Jenn McKee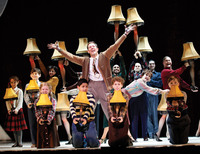 Photo by Carol Rosegg
Do Red Ryder BB guns come in maize and blue?
They should, given the number of University of Michigan graduates involved in "A Christmas Story: The Musical," now playing at Detroit's Fisher Theatre as part of a national, five-city tour.
In addition to several ensemble members, and the musical director (Ian Eisendrath), U-M is represented by the young songwriting team of Benj Pasek and Justin Paul, who created the show's music and lyrics.
"We were approached by the producers of the show early last year," Pasek said. " … It was a little like having auditions for a role. We threw our hat in the ring, wrote a lot of songs for the show on spec, … and they liked what we created."
The show—like the 1983 movie that runs constantly on cable throughout the holiday—is based on the humor pieces of Jean Shepard, who wrote about growing up in Indiana in the 1940s. Though several tangential moments involving the frustrations and humiliations and joys of childhood are included, the main plotline involves young Ralphie's all-consuming desire for a BB gun.
"While the movie takes place in the 1940s, … and even though we see them wearing period costumes and hats and stuff, it feels very contemporary, in a way," said Paul. "And while at first you'd think, 'Who can write a '40s score?' Maybe someone with tons of experience, or someone who's older, would be your first choice. It might not be two 26-year-olds.
"But I think that given the nature of the story, we had something going for us, which was youthful energy and irreverence. … If this was a more classic holiday story, like 'White Christmas' or 'It's a Wonderful Life,' we might not be the best fit. But because 'Christmas Story' is more of a quirky, oddball story, being young helped us, I think. We're able to bring out that kind of humor to a contemporary audience."
PREVIEW
"A Christmas Story: The Musical"
What: Stage musical adaptation of the cult hit Christmas movie, based on the comedy pieces of Jean Shepard, about a boy longing for a Red Ryder beebee gun while growing up in 1940s Indiana. Book by Joseph Robinette, music and lyrics by U-M grads Benj Pasek and Justin Paul.
Where: Fisher Theatre, 3011 W. Grand Boulevard in Detroit.
When: Tuesday-Saturday at 7:30 p.m., with Saturday matinees at 2 p.m., Sunday matinees at 1 p.m., and Sunday evening performances at 6:30 p.m., now-Nov. 27.
How much: $29-$79.
Of course, translating a beloved film to the stage presents all sorts of challenges. For instance, in the movie's department store Santa scene—wherein an overwhelmed Ralphie freezes up and forgets to ask Santa for the BB gun he so desperately wants—the camerawork conveys Ralphie's panic.
"Obviously, we're not able to accomplish everything that the film can," said Paul. "Film's all about the small moments. And on stage, we can't do a close-up of a face to show a scary, not-so-lovely Santa who's worn out, and not thrilled to be at department store. But we can write song where you get that—where it sounds like Christmas music, but it's really rough and off-kilter and kind of circus-like. … And we use slow motion on stage when he asks Ralphie, 'What do you want, kid?'"
Pasek and Paul have clearly had some fun with "Christmas," which includes a kickline featuring multiple versions of Ralphie's father's leg lamp ("It's a major award!"). And there are advantages and disadvantages to having an audience packed with fans who know the movie like a best friend.
But the show opened in Pennsylvania recently, and Pasek and Paul are still making changes, taking notes, and trying new things in rehearsals.
And, believe it or not, they haven't gotten sick of the film. "We still will go back to it to see what look she gave in that moment, or that thing he did in that scene," said Paul. " … It's an endless source of reference for us, and a great tool to have."
Pasek, who grew up in Philadelphia, and Paul, who's from Missouri and Connecticut, were rooting for the show's tour to include a Detroit stop, and they got their wish. During their time in the area, the pair—who first met at U-M's freshman orientation—will be talking with, and performing for, faculty and current students.
Is it just a coincidence that so many U-M grads are involved with "Christmas"?
"You be the judge of that," said Pasek with a laugh. " … It is and it's not. Yes, we went to Michigan, and yes, members of the cast, the crew, the orchestra, costumes—every department is littered with Michigan grads. It's really just a testament to the theater and music program there. They produce great graduates and great professionals."
Jenn McKee is the entertainment digital journalist for AnnArbor.com. Reach her at jennmckee@annarbor.com or 734-623-2546, and follow her on Twitter @jennmckee.