Posted on
Fri, Dec 14, 2012 : 9:51 a.m.
University of Michigan's Nigel Poor exhibit reflects on banned books
By John Carlos Cantu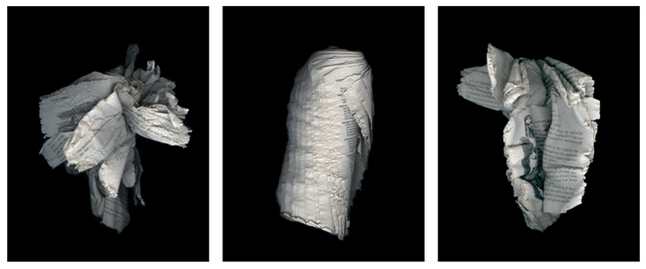 Great books, provocation, and a lot of lint get feminist wrinkles in Nigel Poor's "Remainders: god, sex, and animals talking" at the University of Michigan Institute for the Humanities.
A mixed-media photography and sculpture display mounted in the Institute's art gallery, "Remainders: god, sex, and animals talking" is the result of this California State University associate professor of photography's participation in an exhibit mounted around the theme of banned books.
As Poor says, the subject of banned books wasn't something she'd thought much about in the past. Her initial presumption was that these three topics—God, sex, and animals talking—were likely the subjects that were perennially liable to attract censors.
"Of course, I had heard about 'Lolita' being banned in Iran, and that in the States some people wanted to ban Harry Potter," Poor told Vhcle Magazine in March 2011, "but I assumed these were isolated and extreme cases. Once I began doing research I was shocked by the amount of books that are still challenged and banned; it is hardly an infrequent occurrence.
"I originally selected nine banned books to work with, all incorporating women's names in the titles. My idea was to use books considered 'dirty.' I wanted to use a process that was not only about cleaning, but that was once considered women's work.
"I decided to wash and dry each book and use the lint produced by the loads of laundry to create the artwork. Each of the nine books were separately washed with a load of laundry. As the book is washed it falls apart and loses some of its integrity, words are lost and sentences are erased. Though much disappears, the lint captures what does not dissipate and traps bits of the book. For the original project, the lint from each wash was then applied to an 8x10 inch panel; one panel per book."
Nine lint projects—placed with 30 additional waxed book remnants—are set on one wall of the Institute for the Humanities' art gallery. And both the lint artworks and the washed books wax statues indeed bear tantalizing clues as to their titles and content.
Some of these works, as Poor said, have fragments of letters, words, and images that survive their mutilation. But the larger number only have minimal information. As such, the works reflect one of the guiding principles of 20th century Dada: the Text's mutilation creates deformed semantics whose alternative logics outlive the original text. It's a concrete poetry whose color lint (ranging purple, green, red, pink, tan, and blue) creates a mottled environment upon which scraps of text are scattered.
The waxed books, on the other hand, have a sculptural stolidity that makes them surprisingly expressive. Only measuring inches in height or length, these untitled miniature remnants works as a counter-aesthetic to the lint plates. Instead of only bearing bits and pieces of the destroyed books, Poor's sculptures gracefully dip and swirl even as they illuminate mangled texts. Their diminished pages curtail the author's meaning even as they keep their significance intact.
The focus of Poor's exhibit—like the larger focus of her art—is the mounted black and white photography on display at the Institute for the Humanities. And much like her wax book art, Poor's photographic art is surprisingly expressive for texts that have been mangled through their processing.
If anything, Poor's 13 photographs representing texts running from Louise Fitzhugh's "Harriet the Spy" and "The Autobiography of Alice B. Toklas" by Gertrude Stein to Lewis Carroll's "Alice in Wonderland" and Vladimir Nabokov's "Lolita," gives us her interpretation of the sculpture she's crafted from her washed texts.
As the Institute's gallery statement tells us, "Poor began making photographic images of what remained of (her) books after their laundering. The resulting photographs present captivating sculptural objects that offer fragmentary glimpses of sentences, character names, and illustrations. While she can control the way the remnants are approached photographically, chance dictates the way these books respond to washing and drying."
"I thought it would be interesting," says Poor of this photographic project, "to investigate how far these books could go before they lost a sense of potency and meaning. I began to make photographic images of what was left behind.
"Laundering took the book from being a concrete object with the ability to communicate a story, characters, (and) concepts to a maimed fragment of itself. Yet through the photographic process this hobbled book became a beguiling sculptural object that had the ability to communicate through the language that survived."
These works of art certainly do communicate her intent. The damage to each text is palpable, yet there's a handsome stateliness to these mangled books that makes each photo visually arresting despite the obvious violence of Poor's art.
As reminders of what once was, these remainders are artworks despite themselves. At the very least, they substantiate her belief that artful potency can be derived through a physical manhandling of the written word. Like the raising of social consciousness itself, Poor illustrates her belief that integral meaning will always resist erasure even under the most challenging of circumstances.
"Remainders: god, sex, and animals talking" will continue through Dec. 21 at the University of Michigan Institute for the Humanities' Exhibition Space, Room 1010, 202 S. Thayer St. Gallery hours are 9 a.m.-5 p.m. Monday-Friday. For information, call 734-936-3518.