Posted on
Tue, Dec 27, 2011 : 5:55 a.m.
U-M Institute for the Humanities exhibits use digital art to explore past and future
By John Carlos Cantu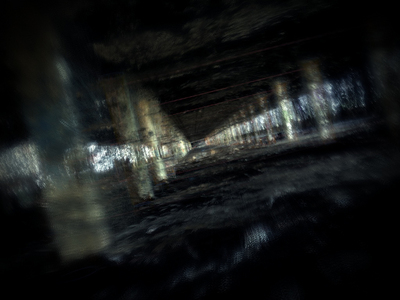 We're living through a rare period when the future of art is unfolding in front of us.
Perhaps as significant a circumstance as 15th century experiments in two-dimensional contrast sensitivity, today's contemporary artists' embrace of computer technology is changing the nature of aesthetics as well as the nature of the art object itself.
It's therefore fitting that one of our vicinity's most cerebral homes of artistry, the University of Michigan Institute for the Humanities (in conjunction with the U-M 2011 Kidder Residency in the Arts program and the Andrew W. Mellon Foundation), is hosting some magnificent cutting-edge digital art.
The OpenEnded Group (Chicago-based Paul Kaiser, and New York-based Marc Downie and Shelley Eshkar) has crafted two memorable installations: "Loops," a three-dimensional representation of famed choreographer Merce Cunningham's solo dance for his hands at the Institute for the Humanities Gallery on central campus; and "Plant," a three-dimensional visual survey of the abandoned Packard auto plant in Detroit at the James and Anne Duderstadt Center Gallery on North Campus.
As Institute for the Humanities Curator Amanda Krugliak says of "Plant" and "Loops" in her gallery statement, "They (the OpenEnded Group) are explorers of odd sorts, pushing past the edges of space and real time, the confines of traditional media, and the more familiar forms of artistic expression.
"Incorporating their own innovative technology, the OpenEnded Group creates immersive digital compositions suggestive of a life after this one. The works trace human movement and serve as melancholy record of the remembrance of the loss. In the few moments offered out of the fray, the projections convey the weirdness of voyeurism."
Krugliak's analysis is spot on. The fact that tinted glasses are needed to view these installations is oddly voyeuristic. And perhaps this says a bit about the human condition, but this is one peep show that isn't off-putting. If anything, the glasses add to the intrigue.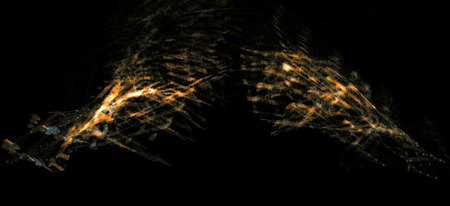 "Loops" has its own peculiar dynamic. As Krugliak tells us, the gallery display's video choreography "is accompanied by a recording of Cunningham reading excerpts from his (unpublished) journals."
This is eerie enough, but what we are effectively seeing is a 21st century update of the 19th century cinematography pioneered by France's Etienne-Jules Marey married to the stop-motion photography of Englishman Eadweard J. Muybridge. For in all three of these instances, there's a fascination with capturing the movement of form.
"Loops'' advance is to allow the viewer to watch three-dimensional videos of Cunningham's performance and examine his hands from various angles with a diminished or increased playback.
Thus the OpenEnded Group has carried the earlier cinematic logic to its post-modernist conclusion. The upshot is that the art of "Loops" integrates today's technology with traditional art (in this instance, dance) for its own aesthetic end.
Cunningham's hands are visually feathered in such a manner as to suggest a 21st century firebird whose symmetrical grace is abetted by the three-dimensional sweep of the imagery itself.
As Krugliak says of "Loops," the installation "formally considers the challenge of preserving cultural memory and live performance in a digital age. Both 'Loops' the dance and 'Loops' the digital work exist in the present, never repeated exactly from one performance or installation to the next.
"Neither work can be truly captured by film or videotape. The 'Loops' project invokes a living, breathing work. The hybrid of choreographed human movement and computer software allow for ongoing iterations and imaginings far into the future."
Interestingly enough, if "Loops" finds the OpenEnded Group looking forward through the past, then their "Plant" looks backward through the future.
The shift of perspective is telling—just as the perspective itself is insightfully jarring. Created out of over 10,000 photos of the abandoned Detroit Packard auto plant on East Grand Boulevard that once employed 40,000 people at its height and housed 47 buildings on its 37 acres, the site is now 3.5 million square feet of massively deteriorating brick and steel.
"Plant" captures the appalling aftermath through two screens that split and integrate three-dimensional color imagery (with otherworldly ambient sound). t's akin to taking a walk through a science-fiction graveyard. It's a real-time graveyard that says as much about the way we've abandoned the past as it says about our use and abuse of industry and technology.
Astonishingly, "Plant" manages in 15 minutes to out-abstract Andrei Tarkovsky's nearly three-hour supremely conceptual 1979 "Stalker" motion picture, in which a similar cinematic spiritual voyage takes place in an equally dilapidated landscape. In this instance, "Plant's" relatively tidy meandering through its apocalyptic post-industrial future gives us a guided tour of things possibly to come.
"Plant" therefore engages the ear, eye, and mind through one of the most overpowering paradoxes of art: finding beauty in the decay of disintegration.
And if this is not enough, a poem written by Kaiser in collaboration with Downie titled "cuttings"—hanging on 16 diaphanous panels—lays out a further-abstracted schematic of the installation's themes.
Whether viewed in two-dimensional "cuttings" or "Plant's" three dimensions, this OpenEnded Group project is one of those exceedingly rare artful adventures that once experienced, will not be forgotten. A vivid testimony to what has been and a timely illustration of what may likely be, Plant" bears the chilly weight of thoughtful revelation as seen through a supremely realized inventive imagination.
Both galleries are closed the rest of this week but reopen Monday. "Loops" will continue through Jan. 14 at the University of Michigan Institute for the Humanities' Exhibition Space, Room 1010, 202 S. Thayer St. Gallery hours are 9 a.m.-5 p.m. Monday-Friday. For information, call 734-936-3518. "Plant" will continue through Jan. 10 at the University of Michigan North Campus James and Anne Duderstadt Center Art Gallery, 2281 Bonisteel Blvd. Gallery hours are noon-6 p.m. Monday-Friday. For information, call 734-763-3266.