Posted on
Tue, Jan 31, 2012 : 8:33 a.m.
U-M junior Connie Shi part of 'Jeopardy!''s soon-to-air college tournament
By Jenn McKee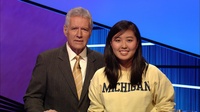 Photo courtesy of Jeopardy! Productions, Inc.
How did University of Michigan junior
Connie Shi
amass enough knowledge to qualify for "Jeopardy!"'s college tournament?
Probably through a number of factors, not the least of which is her self-discipline.
"Actually, I have a class on Thursday evenings," said Shi, 19, whose "Jeopardy!" episode is scheduled to air this Thursday, Feb. 2. "So I won't be able to watch it live."
You read that right. Shi—a cellular and molecular biology major—won't be skipping class to watch herself compete on the quiz show; but plenty of Ann Arbor area folks will likely be tuning in, as will people in Okemos, Shi's hometown. (Shi is prohibited from discussing how she fared in the tournament—which offers a grand prize of $100,000—until after it airs.)
"(The application process) began actually about a year ago," Shi explained."They have an online test for the college championship, so I took that, and a couple months after that, they asked me to come to an in-person audition in New York City, so I went to that as well. And then I didn't really expect very much from it, because there were a lot of really smart people there, and they can only get 15 college students on the show each year."
At the in-person audition, Shi went through interviews and played a mock game of "Jeopardy!", thus answering more questions.
"They interview a lot of people, and picking 15 of them is probably a really hard thing to do," said Shi. "I went into it with the approach of just having fun and enjoying myself through the audition and on the show itself."
PREVIEW
Jeopardy College Tournament
What: Watch U-M junior Connie Shi compete in the classic television quiz show's college tournament.
When: Thursday, Feb. 2 at 7:30 p.m. on WDIV Detroit, channel 4.
Shi got a call in December, confirming that she'd earned a spot in "Jeopardy!"'s college tournament—having been chosen from approximately 12,000 applicants—and she traveled to Culver City, Calif. in early January to do the show. Though several episodes are taped over a short amount of time, Shi got to spend some time getting to know her competitors and meeting host
Alex Trebek
.
"They're really great, from universities all across the country," said Shi. "They were really talented and really friendly. … Alex is very busy himself, and the time that we were taping is pretty much all the time that everyone is together in the same room, because the production crew—everyone on the crew is really busy with their own thing. But it was great to meet him, having seen him on TV for a long time."
And while Shi was initially nervous while on camera, "once you start playing, there's really no time to think about anything else."
Jenn McKee is the entertainment digital journalist for AnnArbor.com. Reach her at jennmckee@annarbor.com or 734-623-2546, and follow her on Twitter @jennmckee.