Posted on
Thu, Nov 10, 2011 : 9:10 a.m.
U-M Men's Glee Club fall concert puts spotlight on new director, new work, and 10 Detroit students
By Jenn McKee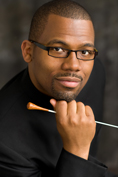 The new University of Michigan Men's Glee Club director, Eugene Rogers, is a Michigan man, in that he pursued his graduate studies here in Ann Arbor.
But since then, his studies and his work have taken him all over the world; and Rogers' enduring interest in world music will not only be reflected in this Saturday's 152nd annual fall Men's Glee Club concert, but beyond that as well.
"The bulk of my work was in Portugal and Singapore," said Rogers, "so I've done more work in Asia than in Africa. But when I went to Africa, I focused specifically on the tribal music of northeast Tanzania."
A total immersion concert featuring African and African American music fueled a collaboration that led Rogers to Tanzania; and before arriving back in Ann Arbor in August, Rogers taught at Macalester College in St. Paul, Minnesota.
"I'm more of an arranger than a composer," said Rogers. "And yes, we'll be premiering several new arrangements at Saturday's concert. … It's quite exciting, but it's challenging for the men. There aren't recordings out there to learn from. They memorize about 99 percent of the music, and it's easier to memorize when you have recordings to work with. … And a Pan African medley we're doing contains 6 different languages. But they're doing well with it all."
In addition to the medley, the lineup will include works by Rudoi, Sheppard, Handel, Bach, Vasks, and the premiere of "Luceat eis" by Timothy Takach, in memory of the victims of 9/11.
PREVIEW
University of Michigan's Men Glee Club concert
What: New MGC conductor Eugene Rogers leads the group through works by Rudoi, Sheppard, Handel, Bach, Vasks, a Pan-African medley, and the premiere of "Luceat eis," by Timothy Takach, in memory of the victims of 9/11.
Where: Hill Auditorium, 825 N. University Ave.
When: Saturday, November 12 at 8 p.m.
How much: $15 (mezzanine) and $18 (main floor). Advance tickets available by email at mgc.tickets@umich.edu, or by calling 734-764-1448.
This latter work is a joint premiere, since it will be performed by several glee clubs across the country.
"It was commissioned by parents of a young lady killed in the tragic events of 9/11," said Rogers.
The concert will also feature 10 gifted minority performers from Detroit's Renaissance High School, who have been working with the U-M Men's Glee Club as part of an outreach program called Brothers in Song.
The program—which originated at Florida State University, and was already in the works when Rogers arrived in his new position—involved 10 Glee Club members working with, and mentoring, these 10 RHS students.
"It's exciting, because even though Detroit is right there, as our neighbor, there seems to be a real gap—a disconnection," said Rogers. " … I'm moved by (Brothers in Song). I've been in the area on and off, so I'd become friends with people at the school. … And it's been remarkable. I'm honored to be part of such a program."
Next semester, the Men's Glee Club will team up with a school in Chicago, and members will travel to work and perform with them.
But for now, the group is focused on the challenges of Saturday's concert.
Roger said, "There's not really been a dull moment."
Jenn McKee is the entertainment digital journalist for AnnArbor.com. Reach her at jennmckee@annarbor.com or 734-623-2546, and follow her on Twitter @jennmckee.