Posted on
Sun, Apr 14, 2013 : 6:47 a.m.
U-M musical theater department prepares to go 'Crazy for You'
By Jenn McKee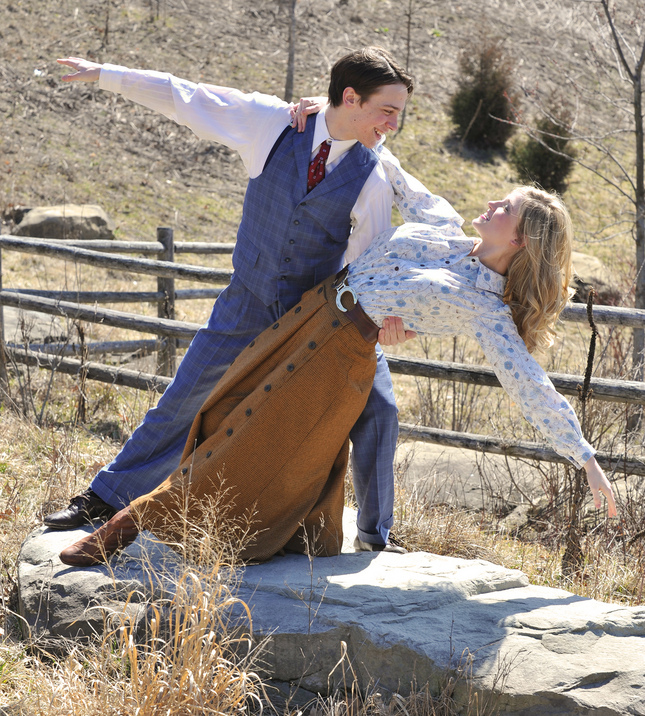 Photo by Peter Smith Photography
Given the hard-to-summarize plot of the musical "Crazy For You," now being staged by the
University of Michigan department of musical theatre
, you might think the show is from the 1930s - an age when you might have explained the convoluted plot of "Anything Goes" over the course of several drinks at a former speakeasy.
But you would only be half right. Though "Crazy for You" was certainly inspired by the 1930 Gershwin brothers musical "Girl Crazy," the show pulls Gershwin songs from several other shows; features a wholly revamped book by Ken Ludwig (of "Lend Me a Tenor" fame); and had its Broadway premiere in 1992.
PREVIEW
"Crazy For You"
Who: University of Michigan department of musical theater.
What: With music by George and Ira Gershwin, and a book by Ken Ludwig, this 1992 Broadway hit tells the story of Bobby Child, a young well-to-do playboy of the 1930s, who yearns to dance on Broadway, though his family expects him to assume his place in the family banking business. When his mother sends him to Nevada to foreclose on a theater, he falls in love with the owner's daughter and hatches a plot to stage a show in order to save the local theater - but the cowboys can't dance, his love goes unreciprocated, and the show has no audience.
Where: Power Center, 121 Fletcher St. in Ann Arbor.
When: Thursday at 7:30 p.m.; Friday and Saturday at 8 p.m.; Sunday at 2 p.m., April 18-21.
How much: $20-$26. Tickets.music.umich.edu or 734-764-2538.
"It's really a trunk musical, but (Ludwig) really came up with a cohesive musical from ('Girl Crazy')," said director
Linda Goodrich
. "After the '80s, which was the age of big spectacle shows like 'Cats,' there was a real desire to return to book musicals, and return to the glory of Broadway's Golden Age. People weren't sure how ('Crazy for You') would be received - though there was a lot going on, there was nothing like this—but it was wildly well received, and had a great run."
Though getting into too much plot detail would be unwieldy, here's a boiled-down synopsis of the show: a young man named Bobby, in 1930s New York, is pressured to join the family banking business, though he has dreams of dancing on Broadway. To get his mind off of his showbiz dreams, his mother sends him to Nevada to foreclose on a theater; but he soon falls in love with the theater owner's daughter, Polly, and decides to produce a fundraising show to save the theater.
Bobby hits a few snags, however: the local cowboys can't dance; Polly doesn't love him; and the show has no audience. So how does anyone arrive at a happy ending?
"It's a hard show to rehearse, because Bobby is in every number," said Goodrich, who noted that the show's lead actor is a sophomore. "It's hard to do anything without him, and it's a real workout. … He's working on building up not only endurance, but on technique, …Â and how to sustain it."
And even though the Tony Award-winning musical went against the grain at the time - taking audiences back to the days of light-hearted, feel-good musical comedy in the age of "Les Miserables" and "Phantom of the Opera" - it was, in its own way, big and splashy, with a big cast, and loads of choreography and costumes.
"It's huge," said Goodrich. " … It was really a landmark musical in the way that (choreographer Susan) Stroman told stories through dance."
Goodrich normally choreographs the musicals she directs; but because someone else was originally slated to direct "Crazy For You," and Goodrich only got the call to do so in late December, guest artist Shari Jordan, who has previously worked with Stroman, is re-creating Stroman's original choreography for the show.
Just sitting back and directing is an odd experience for Goodrich.
"Yeah, it's pretty strange," said Goodrich. "I sit back and think, 'I could get used to this.'"
Despite the show's relatively recent premiere on Broadway, it's Gershwin score features classics several decades old. And while you might think of the songs as timeless, they're brand new to many of the students preparing to perform them in "Crazy for You."
"It's interesting," said Goodrich. "This generation - the Golden Era is new to them. They didn't grow up with it, so it's not in their ear. They're now getting an understanding and a feel for a period that's foreign to them."
Jenn McKee is the entertainment digital journalist for AnnArbor.com. Reach her at jennmckee@annarbor.com or 734-623-2546, and follow her on Twitter @jennmckee.