Posted on
Mon, Sep 3, 2012 : 5 a.m.
University of Michigan presents a well-deserved retrospective of Fay Kleinman's art
By John Carlos Cantu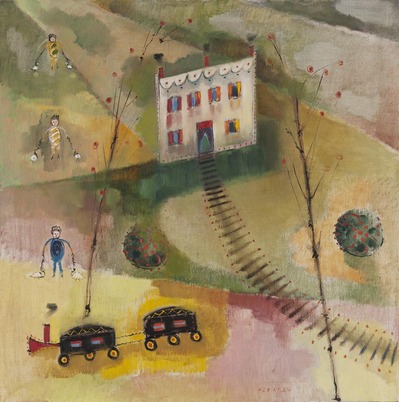 The late
Fay Kleinman
's 2006 Ann Arbor District Library exhibit "Ordinary People" found this transplanted East Coast artist exhibiting a remarkable burst of creative energy at age 95.
Indeed, Kleinman was relentlessly pushing herself through her art with a vigor that's rare for any talent, at any age. There was, as I mentioned, nothing remotely ordinary about her "Ordinary People."
It's therefore little wonder that her "Retrospective" at the University of Michigan School of Art and Design's Jean Paul Slusser Gallery finds her admirably filling one of the premier galleries in Southeast Michigan The restless psychological penetration of her work makes her art worthy of study.
But what really makes Kleinman's "Retrospective" special is the space the Slusser Gallery gives her. This is one of those instances where the size of the venue is matched by the artist's talent.
Kleinman died earlier this year on Feb. 21 at age 99. She moved to Ypsilanti in 1987 to be with her family here. She'd studied at the American Artists School: murals with controversial regionalist Anton Refregier; painting with urban expressionist Jean Liberte; and, most crucially, three-dimensional art with figurative sculptor Milton Hebald. She did additional study through the WPA, City College of New York, and the National Academy of Design.
Add this formidable pedagogy together and you have the various aspects of her modernism that runs consistently from artwork to artwork.
Kleinman studied and polished her craft for three-quarters of a century. And most remarkably, although she arrived to Michigan late, we arguably saw her work at its most powerful. She'd consistently absorbed her insights and translated them into the mold of what she'd done previously.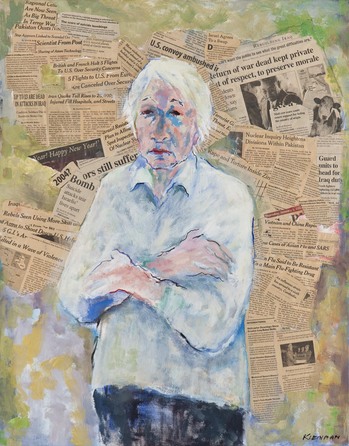 As such, perhaps the key work in this retrospective is her 2004 mixed-media (oil and newspaper) "The World around Me." For in this capstone painting, Kleinman paints her self-portrait with a directness that's a testimony to the aesthetic and social integrity that modernism sought to reflect.
There's a natural dignity to her portraiture that could serve as an inspiration for any other artist. Yet this total honesty is also in its own way the least significant element of this keen masterwork.
For in mixing her mediums and surrounding herself with contemporary newspaper clippings, Kleinman is also laying to rest the canard that the elderly will lose their social and political moorings. And it's this fact that the work lends itself toward.
Our society worships youth. But as Kleinman's "The World around Me" shows us, there's more to vitality than physicality. Rather, by positioning her self-portrait surrounded by 2004's world events, she's illustrating by example the lifelong lessons she'd absorbed in her art education and personal experience.
Formally, the paper technique goes back to the first-half of the 20th century—and so does the guise of the artist as committed partisan. It's specifically a posture espoused by the mid-century existentialists, and when seen in this light, the balance of Kleinman's art in her "Retrospective" becomes fascinating for the light it shines on 20th century urban America.
On the other hand, Kleinman was also capable of tremendous whimsy, and three display cases outside the Slusser Gallery are filled with late Kleinman miniatures in a variety of media revolving around her affection for cats.
These minor primitivistic untitled paintings are executed on a diminutive scale—quickly sketched and relatively hurried; as the gallery statement indicates, well toward the last stage of her lengthy career—yet they, like the best of Art Brut, are also psychologically penetrating.
Each of these miniature feline marvels shows us that Kleinman was intently studying the world around her as long as possible. And they illustrate an iron lock on one's facilities that few of us—much less the fewer of us with her level of talent—are fated to have. These untitled little curiosities are easily the most heroic testaments of this handsomely heroic retrospective.
"Fay Kleinman: Retrospective" will continue through Sept. 14 at the University of Michigan Jean Paul Slusser Gallery, 2000 Bonisteel Blvd. Gallery hours are 9 a.m.-5 p.m. Monday -Friday; noon-7 p.m. Saturday. For information, call 734-936-2082.