Posted on
Sat, Feb 11, 2012 : 5:15 a.m.
University of Michigan staging classic backstage farce 'Noises Off'
By Jenn McKee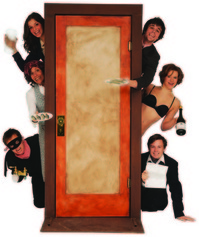 photo by Peter Smith Photography
Though it's been 15 years since U-M theater professor
John Neville-Andrews
was involved in a production of
Michael Frayn
's backstage farce, "Noises Off!", the U-M production he's currently helming as director marks his 6th experience with the show.
"But it's always new," said Neville-Andrews. "(The show) depends on the size of stage, because that will determine the size of set—which, sometimes, you find you don't have enough room to get the line out before you're at the door. Other times, if the stage is rather large, and the set is rather large, you run out of words before you get to the door."
Precise logistical considerations like this are indeed the lifeblood of a fast-paced farce like "Noises Off!", which focuses on a touring theater troupe that's staging a sex comedy called "Nothing On" while various things are unraveling behind the scenes. (Local favorite professional actress Naz Edwards will appear in U-M's production.)
As you might guess, jealousy and love triangles play a role in the fast-paced comedy, and actors get an opportunity to make fun of themselves and the business of theater more generally. Yet for Neville-Andrews, who's long wanted to stage "Noises" at U-M, having a set on which to rehearse was a sticking point.
"With two stories and banging doors—the timing is very important, and if we're just walking into a theater, trying to sort out the tech rehearsals and then going straight into dress rehearsals—it's very difficult for seasoned professionals to pull that off," Neville-Andrews said. "So it hadn't happened. But this time, they said, well, because of the schedule of the other shows, they would build the set in the scene shop before Christmas, so when we came back after Christmas, we'd have the set to rehearse on—which is what we've been doing for the past four weeks.
PREVIEW
"Noises Off"
Who: University of Michigan department of theatre and drama.
What: Michael Frayn's backstage farce about a touring theater troupe that's staging a sex comedy called "Nothing On." Cast members forget their lines, mix up blocking, and misplace props until, by closing night, the plays both onstage and off are in a shambles. Directed by John Neville-Andrews.
Where: Mendelssohn Theatre, .
When: 7:30 p.m. Thursday, 8 p.m. Friday and Saturday, and 2 p.m. Sunday, February 16-19.
How much: $26/$20 ($10 for students with ID). 734-764-2538 or tickets.music.umich.edu.
"It wasn't entirely finished when we first moved in, but then of course, we weren't entirely ready. So it's worked out that as we progressed with the play, so the set has progressed. And now we have all the doors, and all the doorknobs, and all the bells and whistles that we need on stage and back stage."
In this way, the set almost seems a character in its own right in the context of a farce. And Neville-Andrews—who's been at the helm of a number of productions of farces—seems to agree.
"Most farcical plays don't have a great deal of depth," said Neville-Andrews. "They're not Ibsen, they're not Chekhov. They're just somewhat superficial, with stereotypical characters. … But (a farce) does have to move rather quickly, because the audience will be ahead of the characters, … and we don't ever want that if we can help it."
Thin characterizations and quick-moving action present their own set of challenges for actors, of course. So when a "Noises" cast member recently expressed concern that he was playing "one note," Neville-Andrews assured him that was wholly appropriate.
"I said, 'Yes, you are, but within that one note, there's a tonality - there are quavers in there that you've got to explore,'" said Neville-Andrews. "And I said, 'You're fulfilling a function in an ensemble piece. It's not just about you and your character and your character's journey; it's how it fits in with everybody else.' It's a true ensemble piece, where everybody contributes something. So although the characters can be rather thin, when you put them together, it's a very rich play with a lot of depth and a lot of intelligence in there as well."
Jenn McKee is the entertainment digital journalist for AnnArbor.com. Reach her at jennmckee@annarbor.com or 734-623-2546, and follow her on Twitter @jennmckee.