Posted on
Sun, Dec 2, 2012 : 5:17 a.m.
U-M to offer a distinct, physical take on 'A Midsummer Night's Dream'
By Jenn McKee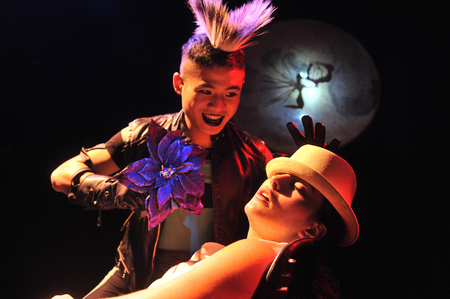 photo by Peter Smith Photography
Ever imagined the love plots of Shakespeare's beloved comedy "A Midsummer Night's Dream" unfolding within the world of a hip, edgy, contemporary arts festival?
Whether you have or not, theater professor Malcolm Tulip will offer the opportunity to experience it when the University of Michigan Department of Theatre and Drama presents "Midsummer."
"Imagine a 'wall of death' around the inside of which motorcycles speed horizontally," said Tulip in an email. "Our set is half one of those. (Without the motorcycles.) A wooden half-cylinder, half a 'wooden O,' designed by Vince Mountain and lit by Rob Murphy. It is the Globe theatre, it is a clearing in the woods, a palace, the moon, a bear pit, a circus."
Meanwhile, the cast is one big tribe of "mechanicals"—contemporary hippies one might see at Nevada's annual Burning Man Festival, at which, according to the event's website, "you experience something personal, something new to yourself, something you've never felt before. It's an epiphany, it's primal, it's newborn."
"Our production reflects the spirit of that festival," said Tulip. "People come and immerse themselves in creation, transform themselves and others and depart leaving no physical trace but a lasting impression."
Costume designer Christianne Myers helps bring these "new Gypsies" to life by placing lights in the fairies' garments. "The fairies sometimes appear to be theatre technicians, or bikers, and sometimes shadow puppets manipulated by these guys," said Tulip. "Digital composers Conor Barry and Simon Alexander-Adams are creating a soundscape to transport us into a 2012 dream world."
Tulip cast the show with a blind eye toward gender, so a woman plays Oberon; a man plays Titania; one woman plays Bottom while another plays Lysander; and a man plays Hermia.
PREVIEW
"A Midsummer Night's Dream"
Who: University of Michigan Department of Theatre and Drama.
What: Shakespeare's comedy about a troupe of actors, a quartet of young lovers, and several magical beings who get their stars crossed in the name of love during the course of one disorienting night in a forest. Director Malcolm Tulip sets his production in a contemporary, edgy, hippie-friendly art festival.
Where: Power Center, 121 Fletcher in Ann Arbor.
When: Thursday, Dec. 6 at 7:30 p.m.; Friday and Saturday, Dec. 7-8, at 8 p.m.; and Sunday, Dec. 9 at 2 p.m.
How much: $20-$26 ($10 for students with ID). For advance tickets, visit www.music.umich.edu or call 734-764-2538.
"The blurring of the genders of the couples invites us to look at the nature of falling in love, marriage, control both inside and outside a traditional order," said Tulip. "After all, the play was performed for Elizabeth I who said, 'I know I have the body of a weak and feeble woman, but I have the heart and stomach of a king.'"
In addition to these unconventional production choices, however, Tulip's emphasis has primarily been focused on the language, as he hopes to "make the play sing." But as one of Shakespeare's most-produced and most popular plays, "Midsummer" often draws audience members who are wholly familiar with the material. Does this affect Tulip's decisions as a director?
"I think it requires me to approach the script as a new text, not as a classic," Tulip said. "I have to be sure we discover the play for ourselves in the context of fall 2012. How does the play speak to us, and how can we pass that on to our audience so that they may re-discover the play, too? I cannot give the audience the 'Midsummer' I think they might want. … My job is to recognize this and provide the cast with the tools to reveal Shakespeare's play. As I tell my students, our job is to make theatre not to put on a play."
Of course, movement and physical comedy are among Tulip's areas of expertise, so theatergoers can likely expect a more-animated-than-usual version of "Midsummer." Fairy bands will wrestle and spar with sticks and whips; Puck "is as likely to slash your car tires as drip love-potion on your eyelids"; Bottom's a skateboarder who loves acting; and the Mechanicals have a vaudeville quality to them ("Keystone cops meet your local community theater group").
"For auditions, the floor was covered with gymnastic mats," Tulip said. "I wanted to see the actors fall, jump, roll and crawl. The lovers' night in the forest is a trial. They get scratched, lost, exhausted, chased—it is not a pretty midnight stroll in the Arboretum. Though performed in midsummer, it is clear that the play takes place in early May. They get wet, and they climb and descend walls. We try to physicalize all the characters; what they want, how they feel must be in their whole bodies."
Jenn McKee is the entertainment digital journalist for AnnArbor.com. Reach her at jennmckee@annarbor.com or 734-623-2546, and follow her on Twitter @jennmckee.