Posted on
Mon, Mar 21, 2011 : 5:33 a.m.
Ellen Eisenman's photo collages on exhibit at Lane Hall speak volumes
By John Carlos Cantu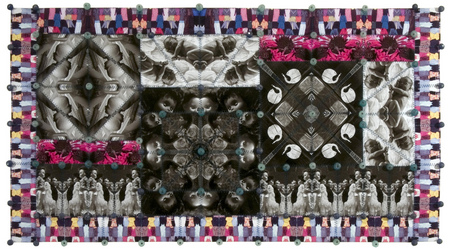 The rich, rhythmic internal harmonies of Ellen Eisenman's mixed-media photo-collage in "We will not be Silent" at the University of Michigan Women's Studies Lane Hall Gallery heartily illustrate the conviction that she means what she says.
The indeterminate "we" of the display's title is clearly a solidarity socio-political "we." But there's also nothing in Eisenman's work that singles out a specific group. Rather, this New York city-based photojournalist make her work come alive from a number of personal, social, and political perspectives.
"From a distance," says the U-M Women's Studies Department gallery statement, "Eisenman's works appear to be large-scale renderings of the intricate patterns found within a quilt or a kaleidoscope. Comfort, harmony, and order resonate from the ordered patterns of the work.
"But up close content and abstraction confront one another. Indeed, the images come to us the way memories do—in bits and pieces, at times distorted, at other times as clear icons."
Each of the 23 artworks on display at Lane Hall is pieced together from multiple images (stoking a polemic chord here, adding a personal chord there) whose internal symmetries interface in kaleidoscopic fashion. These patient patchworks create an intricate whole.
Holding these photos together are nails, pins, and wires; each threading their way along the edges of the photographs, and all reinforced by rows of glass or metal beads that heighten the entire work into complex photographic quilts.
Eisenman's art therefore works on both a mixed-media and photojournalistic level. The works can be read as either discrete parts of a formal whole—or read as a cumulative polemic.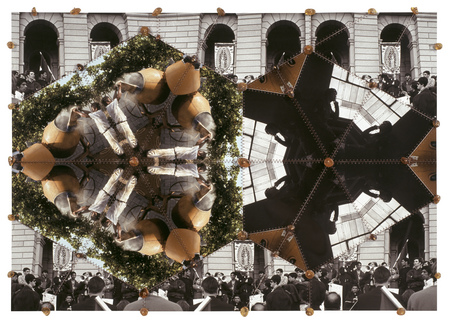 For example, 2008's "expert witnesses" consists of archival photographs, thread, amber beads, and brass wire. It features three photographic motifs—a sepia-toned outdoor political rally; a color photo of a laborer tossing a bag of sand into a cement mixer; and a black and white photo of a pensive youth sitting by a window—to craft a collage stitched together by wires and amber beads. 2010's "for the truth seekers" — composed of archival photographs, thread, shells, glass beads, and brass wire — is an even more complicated composition. In this work, Eisenman crafts a photo-collage of 10 different visual images arranged in three distinct grounds that range from civil protest to workers engaged in their task.
2006's "the price of silence" finds Eisenman using color patterns of used clothing against black and white photos of toy dolls. 2010's "to make the road" uses a horizontal orientation with her signature photojournalistic collage to reflect travelers of differing sorts.
There's a symmetry in each artwork that's worthy of indefinite study. But this is also only to say the least: Eisenman's art shows us that she plans to be seen—and that she has no intention of being silent.
"We will not be Silent: Photographs by Ellen Eisenman" will continue through June 30 at the University of Michigan Institute for Research on Women and Gender Lane Hall Exhibit Space, 204 S. State St. Gallery hours are 8 a.m.-5 p.m. Monday-Friday. For information, call 734-764-9537.