Posted on
Wed, Sep 22, 2010 : 5:14 a.m.
U-M's Work gallery goes deep into the 'Sub-Terrain'
By John Carlos Cantu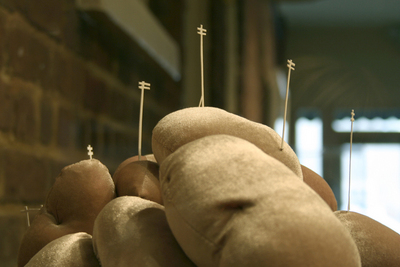 Most art exhibits are inviting affairs — friendly with comfortable settings. But most exhibits aren't the University of Michigan Work Gallery's "Sub-Terrain."
Organized by U-M School of Art and Design lecturer Andrew Thompson, this exhibit features artists from around the country who aren't too interested in being inviting or comfortable. These artists are, rather, contentious — and uncomfortable.
They confront their viewer with viewpoints that are anything but understated. And this strategy makes "Sub-Terrain" an uncompromising success.
"What lies below the surface of the physical, the perceptible, and the quantifiable?" asks Thompson in his gallery statement. "Invisible forces of the subconscious simmer until they come to a head in subtle circumstances of serendipity or in violent disruption, sparring with the perceived logic of life.

"There are two worlds. One is constrained by space-time, money, and laws. The other world is nonphysical, a spirit realm of chance, fate, memory and premonition.

"As synchronistic events appear to conspire against you or serendipitously lead you to your destiny, the conscious self is confused and yearns for an explanation. This convergence of the conscious with the subconscious becomes personified through mythologies and culture as angels and demons, spirit guides, and familiars."
Thompson certainly has to consider his task completed because many viewers will indeed be yearning "for an explanation."
Amazingly enough, the exhibit — an inspired raucous cacophony of incongruous sights and sounds — is somehow inviting — almost despite itself.
A partial list of the talents on display are Debra Broz, Mira Burack, Susan Evans, Rachel Frank, Matt Frieburghaus, Lauren Harlowe, Megan Heeres, Jerry Jackson, Melissa Jones, Julie Lambert, Amanda Lechner, Ryan Malloy, Barbara Neri, Manisha Patel, Judy Rushin, Audrey Russell, Amy Sacksteder, Madeline Stillwell, Cedric Tai. Painting, Sally Tardella, Amanda Thatch, Christopher Ulivo, BJ Vogt, Scott Wagner, Graem Whyte, and Audra Wolowiec.
The media on display include drawing, video, soundscapes, painting, sculpture, mixed-media, printmaking and needlework. And the reigning sentiment is passion, in every sense of the word.
Take the interesting stack of frumpy "Velour Potatoes" stacked against the stairwell to the gallery's basement. Crafted by Brooklyn-based Audrey Russell, this mound of taters is (and isn't) what it appears, because each faithful fiber sculpture of a potato speaks of a thoroughly mundane defiance: tiny telephone poles, yearning for communication?
Music also fits in with Ann Arborite Ryan Molloy's "A Colossal Consolation Prize" assemblage at the front of the Work Gallery. Consisting of three found black and white television monitors framed within an oversized lean wood plank structure that faces into the gallery as well as out of the gallery's front window, "A Colossal Consolation Prize" (with audio accompaniment by Mark Dickson) features an alternating drilling and high-pitched drone as a soundtrack contrast to superimposed Monopoly cards floating across a film clip background drawn from the science fiction films "Last Man on Earth" and "Carnival of Souls."
Detroit sculptor Graem Whyte's "Old Timey Expedition" also has a keen architectural element to it, with its six wall-mounted bronze and steel columns supporting a miniature landscape. Whyte's tiny trees (and even tinier residents) stand on the work's outer rim of their archway, giving the sculpture a playfully puzzling appearance even as the sculpture itself reflects skillfully wrought colonnade symmetry.
But "Sub-Terrain" reaches its paradoxical high point in Amanda Thatch's ghostly abstract "Silverpoint Study 1." This wall-mounted framed print consists of a silverpoint cloudbank whose subtle gray confluence gently rests on its surging ground. Indeed, this Ann Arbor printmaker's ethereal cluster of curvilinear swirls magnificently clouds the print's working surface. In a display of bold and bolder aesthetics, this becalmed, self-assured work succeeds through its subterranean equilibrium.
"Sub-Terrain" continues through October 5 at the University of Michigan Work Gallery, 306 South State Street. Gallery hours are noon to 7 p.m., Tuesday-Sunday. For information, call 734-998-6178.
John Carlos Cantú is a free-lance writer who reviews art for AnnArbor.com.