U-M's Basement Arts presents 'The Last Five Years'
Posted on Mon, Apr 16, 2012 : 5:58 a.m.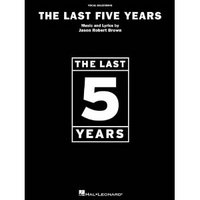 The University of Michigan's Basement Arts—a student-run theater organization—will present "The Last Five Years" on April 21 at 7:30 p.m., and April 22 at 2 p.m., at Studio One in the Walgreen Drama Center, 1226 Murfin. Admission is free.

Jason Robert Brown's "The Last 5 Years" is a musical that explores a five-year relationship between Jamie Wellerstein, a rising novelist, and Cathy Hiatt, a struggling actress. The show chronicles the young couple's romance in a new and exciting way: her story starts at the end of their relationship; his begins on the day they met. The songs are presented in alternating solos, with them only singing together in the middle at the wedding. "The Last Five Years" captures some of the most heartbreaking and universally felt moments of modern romance.

This Basement Arts production is directed by Rheme Sloan.