U-M's Connie Shi will be back on 'Jeopardy''s college tournament on February 10
Posted on Wed, Feb 8, 2012 : 10:19 a.m.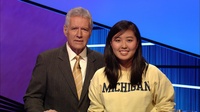 University of Michigan junior and Okemos native Connie Shi - who won her first round of the "Jeopardy!" college tournament, which aired on Thursday, Feb. 2—will next appear on the show's second (of three) semi-final round, which is scheduled to air on Friday, February 10.

"Jeopardy" airs at 7:30 p.m. on WDIV, channel 4.