Posted on
Sun, May 19, 2013 : 5:47 a.m.
Hatcher Library exhibit showcases many faces of filmmaker Robert Altman
By John Carlos Cantu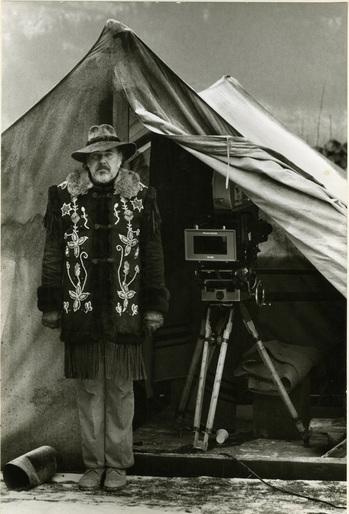 courtesy of the University of Michigan Special Collections Library
The expansive space occupied by the exhibit "The Many Hats of Robert Altman: A Life in Cinema"—at the University of Michigan Hatcher Graduate Library—fits well with this Hollywood legend's oversized talent.
Using nine entry overhead banners featuring photos of stars like Karen Black, Shelley Duvall, Henry Gibson, Elliott Gould, and Michael Murphy — as well as placards, personal correspondence, and oversized panels strategically placed throughout the Graduate Library's Exhibition Room — the exhibit looks like just about the right size for Altman.
Mary Morris, U-M Hatcher public information specialist, succinctly says in the display's press release, "This exhibit draws on the riches of the University of Michigan's Robert Altman archive, including examples of his novel approach to overlapping dialogue, his exploration of movie genres, his use of ensemble casts, and how audiences and critics viewed his work. It includes materials from "M*A*S*H" (1970), "Gosford Park" (2001), "Nashville" (1975) and more (as) researched by students from the U-M Department of Screen Arts & Cultures."
This is obviously pretty heady stuff; especially considering the fact that Morris is modestly underplaying Altman's oeuvre. After all, "McCabe & Mrs. Miller" (1971), "The Long Goodbye" (1973), "Thieves Like Us" (1974), and "The Player" (1992) — among many others — are of equal quality and cinematic significance.
Indeed, it wouldn't be an exaggeration to say that Altman will likely be considered the greatest director of Hollywood's second golden era (spanning roughly from 1969 to 1977; and that fact with all due respect to Martin Scorsese, Francis Ford Coppola, Arthur Penn, and Steven Spielberg). For if not the greatest; he's undeniably the most consistently innovative. And "The Many Hats of Robert Altman" comfortably substantiates this belief.
Yet if this isn't enough, then consider that cinema's single most significant barometer of film art — Cannes' famed Palm d'Or committee (the highest film prize annually awarded and presented to the director of the best feature film in official competition) — nominated seven Altman films through his career, while exercising considerable discretion by awarding him the coveted Golden Palm for the permanently iconoclastic "M*A*S*H."
Never mind the equally (among, repetitively, many other) numerous wins and nominations by America's Oscars and Golden Globes, Canada's Junos, England's BAFTAs, and Italy's Golden Lions. No matter: In the end, even Altman's lesser efforts tend to be considerably more interesting that most other film directors' successes.
Not bad, as the exhibit shows us, for a talent whose career started late (Altman cut his teeth as an industrial film director and TV director) — and who was creatively active right up to the time of his death at 81 in 2006.
It's merely the U-M Special Collection Library's good fortune to be, as Morris points out, the home of his thousand items (plus) archive of photographs, papers, letters, drawings and artifacts. (Altman spent time at U-M in the 1980s, acting as an artist in residence and later filming a play. The university awarded him an honorary doctorate in 1996.)
"The exhibit started," writes Morris, "as an assignment in the Screen Arts and Culture 330 'Major Directors: Robert Altman & Orson Welles' class taught by Professor Matthew Solomon. Students explored the Altman archive, chose exhibit topics, selected corresponding items from the collection, and drafted the exhibit's interpretive text—all under the direction of Film Studies Field Librarian Phi Hallman and Special Collections Librarian and Curator Peggy Daub."
Daub, in turn, says of these students' effort, "It was wonderful to see their excitement as they discovered 'gems' in the archive and then did the research to put their finds into context. They went from knowing nothing about archives to becoming much more adept at this kind of research."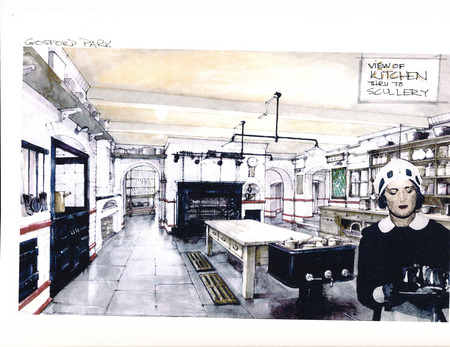 Courtesy U-M Library
Ultimately, we are the winners. Panels in the exhibit cover topics ranging from Altman in conversation with Warren Beatty during the filming of "McCabe & Mrs. Miller" to a 1975 oil on canvas Don Frache portrait of Paul Newman dressed as Wild Bill Hickok from Altman's notorious 1976 all-star flop, "Buffalo Bill and the Indians, or Sitting Bull's History Lesson" (which, incidentally, was awarded the Golden Bear at that year's Berlin International Film Festival). So granted, film art (like all other arts) is in the eye of the beholder. It just turns out that Altman's art extends well beyond the eye — and critics.
For example, Altman is shown working with Robin Williams in the actor's 1980 "Popeye" musical film debut (which at the time was so reviled, song composer Harry Nilsson sought at one point to have his name taken off the film's credits). On the other hand, Keith Carradine is shown in sly form with guitar in hand as he sings his Oscar-winning song, "I'm Easy," from the (arguably) most significant film of Altman's career, "Nashville."
In the end — whether displaying a 2000 letter from writer Julian Fellowes that essentially traces a direct line from the 1970s British Independent Television Authority (ITV) series "Upstairs, Downstairs" to the current BBC "Downton Abbey" via Altman's "Gosford Park" or showing us remarkably partisan pro and con film reviews from film critics through the run of his career — "The Many Hats of Robert Altman" certainly lives up to its name through Altman's work as a lyricist, writer, film and opera director, as well as producer. It's just amazing how many hats (literally and figuratively) we actually find him wearing.
"The Many Hats of Robert Altman: A Life in Cinema" will continue through June 30 at the University of Michigan Harlan Hatcher Graduate Library Gallery, Room 100, 913 S. University St. Exhibit hours are 8:30 a.m.-7 p.m. Monday-Friday; 10 a.m.-6 p.m. Saturday; and 2-7 p.m. Sunday. For information, call 734-764-0400.