Posted on
Fri, May 10, 2013 : 5:29 a.m.
Institute for the Humanities exhibit explores intersection of text and image
By John Carlos Cantu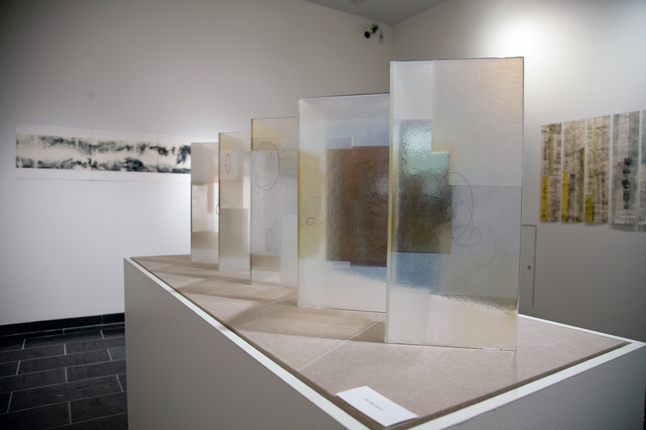 An attenuated regard for the book and the printing process is the hallmark of Lynne Avadenka's "Language Comes after the Artist" at the University of Michigan
Institute for the Humanities
.
Featuring an expansive 6-artwork display, this winter's Jill S. Harris Visiting Fellow of the Humanities Institute has her work distributed liberally around the Institute gallery. Encompassing books, wall-mounted prints, and a particularly interesting glasswork, the display's signature feature is a restless foray into process.
As Peggy Daub, curator and outreach librarian of the U-M Special Collections Library, relates in an interview she conducted with Avadenka for the exhibit, this Huntington Park, Mich. mixed-media artist seeks to create art "that contains both the beauty of gesture" as well as "a core of meaning."
And as Avadenka further adds in her personal statement, "I investigate the philosophical and physical presence of the book: the very nature of visual language, the visual power of word and image combined, and the notion that both are codes to be deciphered. I explore the beauty and power of line, and the graphic essence of a letter, whether it can be 'read' or not."
Which is a good thing because reading Avadenka's work in "Language Comes After the Artist" requires as much of a willingness to read gesture as it requires a willingness to explore the printmaking process.
The media in this exhibit are relief printing, intaglio printing, and kiln-fired glass engraving. In each instance, Avadenka's expressive gesture is meticulously crafted.
And as Amanda Krugliak, arts curator of the Institute for the Humanities, rightly says in her introduction to the exhibit, "What is remarkable (about Avadenka's work) is the impossibility of knowing exactly where text begins or image ends."
She then adds, "The two (text and image) co-exist, interchangeable mingling, like twist of rope, articulating one another, like door to hinge" making this kind of work ultimately hard to define because "Avadenka is a visual artist, a printmaker, a maker of books, a conceptualist, a realist — rooted in tradition and modern."
This restless effect is best seen in her expansive 2013 "After Jabes" intaglio, chine colle where the wall mounted 18 x 56 inch print is unfurled across the Institute's west gallery wall.
Crafted through a fluid repetitive print overlay, the print expansively flurries across its borders. "After Jabes" appears as though Avadenka has surrendered herself to the work; taking the time to create a flowing curvilinear abstraction whose richly textured articulation creates an internal tension.
A similar observation can be made of the 12 vertical panels of her 2010 "Seasons." Representative samples taken from a larger set of prints titled after each season are mounted on the Institute wall. Each work of the suite illustrates the change of the calendar through varied combinations of color and design.
Each trio of Avadenka's dozen "Seasons" panels — ranging from vegetative greens and yellows for spring and summer to browns and reds for fall and blue for winter — features squiggles with a thicker black sketched line, creating an imaginative visual vocabulary whose internal chatter goes on from season to season.
By contrast, 2011's "Comes and Goes," a freestanding glass book created from five 20 x 13 x 7 inch glass-kiln panes set in the center of the gallery, finds Avadenka imaginatively reconstructing the possibility of the art book through a medium that wouldn't ordinarily be thought of as book material. This exceedingly handsome glasswork has a series of brown tinted rectangles rimming the corner of each plane with engraved black and red lines and ovals strew across the work's glass pages.
What makes the work truly special is the placement of these ovals on these leaves. Set on different pages —in different sizes and places — the ovals are a colorful punctuation whose placement animates the glasswork.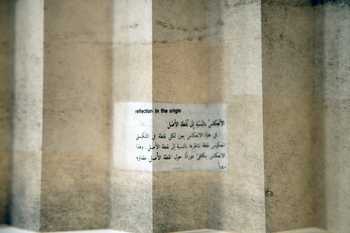 Ultimately, however, the exhibit's masterwork is 2012's "Al-jar I-IV," a 12 x 50 inch intaglio monoprint print, chine colle with accordion border — that is, as Avadenka states in her description, unique. Avadenka prints words and phrases on the pages of this expansively repetitive work that nudge the viewer along the accordion book.
With this remarkable artwork, Avadenka summons up the entirety of her aesthetic. Because "Al-jar I-IV" is most certainly a book in that it has seemingly endless contiguous pages in the way any book would ordinarily have them. But her gestural abstraction stretched across much of the book's length also contributes mightily to the work's appearance.
Sweeping her viewer along with the same sort of subtle gestural expression found in her other artworks, Avadenka remains faithful to her philosophy of crafting a compelling visual abstraction that becomes the narrative. Seeing becomes the same as reading in this exceptional work of art.
""Language Comes after the Artist": The Work of Lynne Avadenka" will continue through May 17 at the University of Michigan Institute for the Humanities' Exhibition Space, Room 1010, 202 S. Thayer St. Gallery hours are 9 a.m. to 5 p.m., Monday-Friday. For information, call 734-936-3518.