opera preview
"Marriage of Figaro" opens at University of Michigan on Thursday
Posted on Sat, Nov 7, 2009 : 5:18 a.m.
They say that three's the charm, but Mozart and his librettist, Lorenzo da Ponte, outdid themselves on the first of their three collaborations, "Le Nozze di Figaro" ("The Marriage of Figaro"), a frequent contender for the title of Perfect Opera.
"I think I have to say it is my favorite opera, though I try not to make that distinction" said University of Michigan associate professor of voice Robert Swedberg, who directs students from the School of Music, Theatre & Dance in a "Nozze" that debuts at the Power Center for the Performing Arts on Thursday, Nov. 12. The production — two casts alternating over four performances — is sung in Italian with projected English translations. Kenneth Kiesler, U-M director of orchestras and professor of conducting, conducts the University Symphony Orchestra. Peter Harrison designs the sets and Christianne Meyers, the costumes.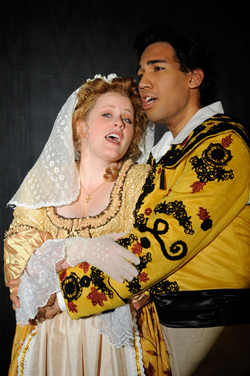 Peter Smith Photography
Based on a comedy of Beaumarchais, "Figaro" chronicles a day — an important day — in the household of Count Almaviva, whose valet, Figaro, is set to marry the beautiful chambermaid Susanna. Unfortunately, Almaviva has
droit du seigneur
on his mind: he is intent on bedding Susanna himself. The Countess, though, intends to teach Almaviva a lesson on the dangers of infidelity, with Susanna's help. The proceedings are livened by a love-sick teenager (Cherubino, traditionally sung by a mezzo-soprano) and mistaken identities, but poignancy, as well as humor and a happy ending, is part of the opera's depth and appeal.
Swedberg has good reason to be fond of "Figaro," reasons that go beyond its rich links to social history and the perfect alliance of words and music.
"I've been associated with it since I was a student," he said. "It was the first production I was in, and it gets better and better over the years: there is such depth of detail, such connection to so many other elements.
"And the themes associated with the piece have such resonance still: the political aspects, the big guy against the little guy. But it is also about love and the various shades of love."
It's not till he's prodded that Swedberg tells you he played the title role of Figaro.
"It was 1974, I think," he said, "and I remember being so energized by that overture, standing behind the curtain as a student, just being so jazzed by that overture, feeling so lucky to perform it."
More recently, he said, he has performed Dr. Bartolo, a comic role, and directed the show several times, both in Florida — where he previously taught and headed Orlando Opera — and in Germany.
"But this production is more interesting in a way," he said, comparing it to the German production, with its international cast. "The students are more open to ideas than some of the professionals I work with who are set in their ways." Stage rehearsals began in early October, but music rehearsals were under way from the beginning of the semester. And not just for two casts: because of worries about H1N1 flu, Swedberg said, a third set of students have been asked to learn the principal roles, just in case too many singers get sick.
But for now, all are on deck and having a blast, he said.
"It's just real accessible," he said of the opera in an early October conversation, "and it's clear that they're getting it. I worked with the chorus for the first time last night, and almost half the chorus had never been in an opera before — it's an opportunity for the some of the freshmen and sophomores to get involved. And you could see, by the end of rehearsal, they got it. They're in the count's employ — it's like they're individuals called to an office party that they have to go to; they're not totally supportive of his droit du seigneur, they are supportive of Figaro. Still, they've got to kiss up to the count."
PREVIEW "The Marriage of Figaro" Who: University of Michigan Opera Theatre. What: Beaumarchais' comedy. Sung in Italian with English translations. Where: The Power Center for the Performing Arts, 121 Fletcher St. When: Thursday, Nov. 12 at 7:30 p.m., Friday and Saturday, Nov. 13-14, at 8 p.m., and Sunday, Nov. 15 at 2 p.m. How much: $18-$24 ($9 for students with ID). Info: Call 734-764-2538, visit the League Ticket Office at 911 N. University, or purchase tickets online.
Susan Isaacs Nisbett is a freelance writer who covers classical music and dance for AnnArbor.com