Posted on
Sat, Dec 1, 2012 : 9:33 a.m.
UMGASS visiting fairyland by way of 'Iolanthe'
By AnnArbor.com Staff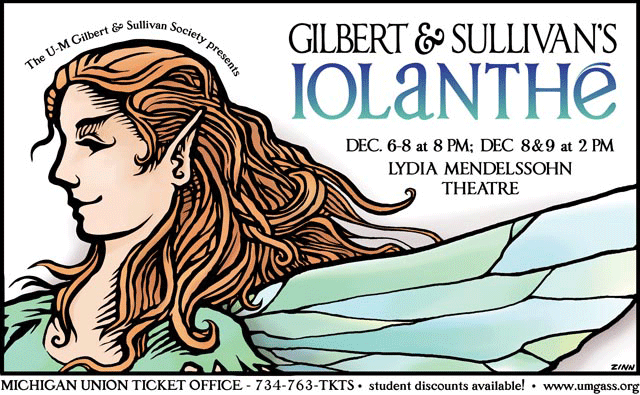 The University of Michigan Gilbert and Sullivan Society
will present "Iolanthe" Dec. 6-9 at 8 p.m. at the Lydia Mendelssohn Theater, 911 N. University in Ann Arbor.
Director Robin Tierney and assistant director Tom Ciluffo join musical directors Matt Balmer and Leo Lemery for this traditional retelling of the beloved Gilbert and Sullivan classic that answers the question: "What if fairies and humans crossed paths?"
Prior to the start of Act 1, the fairy Iolanthe was banished from fairyland for the crime of marrying a mortal. She is pardoned and returns as the operetta begins, but reveals that she has had a son named Strephon. Strephon is a half-fairy half-human Arcadian shepherd, and he is deeply in love with Phyllis, the ward of the Lord Chancellor.
Unfortunately, due to his lowly rank (as well as the Chancellor's own attraction to Phyllis), the Lord Chancellor forbids them to marry. Things start to look up when Strephon asks Iolanthe for help, but soon get out of hand when some peers (along with Phyllis) see him embracing his mother, who looks like a seventeen year old girl.
Advance tickets for "Iolanthe"—$20 general, $18 for seniors, and $10 for students/youth—are available online through BrownPaperTickets. For more information, visit www.umgass.org/.