Posted on
Fri, Jan 11, 2013 : 5:50 a.m.
U-M Hospital exhibit displaying Karen Bodycombe's 'Landscape Forms'
By John Carlos Cantu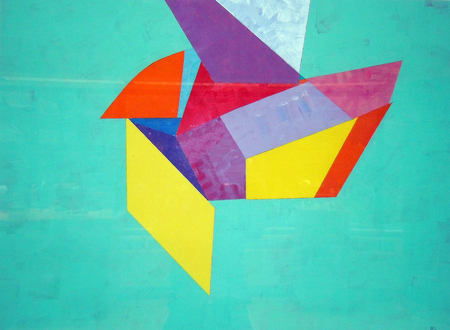 Karin Bodycombe
's watercolor and gouache mixed-media painting exhibit begins with inspired geometric abstraction—and it ends this way, too.
A "Gifts of Art" presentation at the University of Michigan Hospital, this longtime local arts educator's "Landscape Forms" retrospective features the use of color and geometry in the service of abstraction. As Bodycombe says in her artist's statement, this nexus is the sole focus of her art.
"I paint landscape compositions reducing them to the basic areas or forms of the subject resembling the environment," says Bodycombe. "Brush strokes express my feelings."
There's a tightly rendered confidence in the power of geometry, chromaticity, and facture in her paintings that convey information that doesn't reside in these formal elements themselves.
Whether reducing representation to its barest components or strategically using her geometry to suggest representation, Bodycombe uses her experience as an abstractionist to align her rectilinear elements in such a manner as to suggest her meaning. It's a use of geometry that isn't nearly as easy as it might seem.
Rectilinear art's angularity requires considerable ability and experience. It's therefore no accident that competent rectilinear abstraction is rarely found in the art of non-professionals. Bodycombe's abstraction reflects her experience. Her paintings have a internal harmony that couldn't be a first draft.
As her inspired "Italian Landscape" illustrates through its outstanding pinwheel orientation, there's an artistry to this kind of painting that requires a polished placement.
Each grid in the painting essentially leans on another to create a sense of internal dynamism. "Italian Landscape" builds its inner tension through the careful placement of geometry that only vaguely suggests a landscape.
The application of pigment is also a crucial element of "Italian Landscape." The painting's baker's dozen grids (with only one grid featuring the most subtle circularity) has been largely painted with a solid pigmentation.
With the dramatic exception of a variegated blue triangle at the top of the composition, each of these spaces has a distinct chromatic application that stands in contrast to the work's turquoise background. Thus, though the experienced application of pigments and geometry, Bodycombe creates an homage to Tuscany whose sole source of meaning is through suggestion.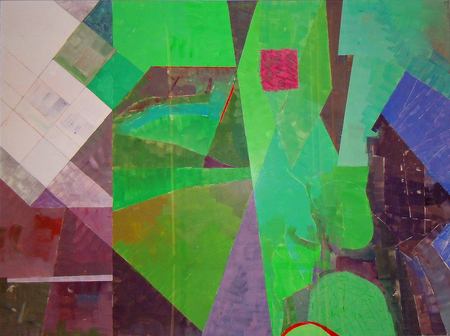 By contrast—yet supplementing this approach with a specific application of watercolor and gouache pigments—is her "Kew Gardens, England." This vertically oriented, oversized masterwork is a painterly tour de force where Bodycombe shows her hand in its complex construction. The geometry in "Kew Gardens, England" is far more complex than usual.
Bodycombe carves out her space using various-sized rectangles and triangles (with only strategic curvilinears) to produce a far more complex geometry to suggest this famed Royal Botanical Gardens in London.
It's a rich payoff as the viewer's eye can endlessly scan the painting's variegated working surface—akin to the visual complexity of the gardens themselves—for its intricate detail. Bodycombe is suggesting (rather than representing) again; but in this instance, geometry or palette is not enough.
Instead, the rich application of her watercolors and gouache through the modulation of her touch heightens the sensuousness of nature. Bodycombe gives us massive collected information in a compressed format.
It's an ambitious task. And it requires a keen professional confidence to know what elements to leave in—as much as what elements to leave out. Straddling the border of landscape representation and gestural abstraction, Bodycombe leaves nothing of "Kew Gardens, England" to chance.
"Karin Bodycombe: Landscape Forms" will continue through Feb. 4 at the University of Michigan Health System Main Corridor Floor 2 Gifts of Art Gallery, 1500 E. Medical Center Dr. Gallery hours are 8 a.m. to 8 p.m., daily. For information, call 734-936-ARTS.