U-M Health System exhibit showcases amazing water photography of Terry Abrams
Posted on Fri, Jul 13, 2012 : 5:09 a.m.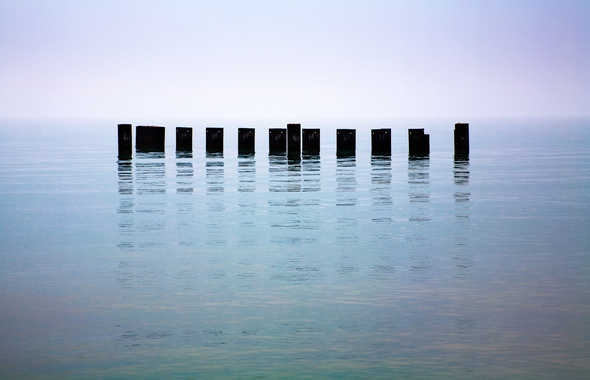 Terry Abrams' Gifts of Art exhibit "The Simplicity of Water: Color Photography" at the University of Michigan Health System expands spectacularly on this local arts educator's fascination with this diaphanous natural element.

The exhibit is effectively a distillation of two prior exhibits Abrams mounted locally last year. February 2011 saw him share space with William Pelletier at Concordia University's Kreft Center Gallery, while "Photography in Black and White" with Dirk Bakker and Nina Hauser was on display at WSG Gallery later in May.

In retrospect, it can be seen that both of those exhibits were run-ups to this show. Abrams, a Washtenaw Community College photography instructor, deftly flashed his digital color skills in that first exhibit and he illustrated his ability to marvelously modulate his imagery in the other display.

"Water is one of the basic elements on earth," says Abrams in his artist statement. "It sustains life. It has a unique form and texture that evolves as it flows and reflects colors and objects.

"As a reflective surface, water appears to be ever changing depending on the viewer's position. We can look through water to see what is underneath, and we can also look at the surface of water to see what floats and what it reflects."

The same observation can be made of this tidy dozen color photographs. With the exception of one work where a trio stands in the photo's mid-ground, the entire series consists of seascapes, waterlines, rainfall, and the play of water as it appears to Abrams' camera.

"My approach to photography is to create a sense of tranquility, peace and contemplation using the landscape as my subject matter," continues Abrams. "I practice looking at my environment, and I often notice things that others don't acknowledge. Simplicity is my guiding principle for composition."

Towards this end, Abrams uses water's inexhaustible plasticity to carve his compositions. Using shadows and reflection to bounce light off otherwise stable visual elements, Abrams' rolling images reflect a highly developed sense of discord and constancy.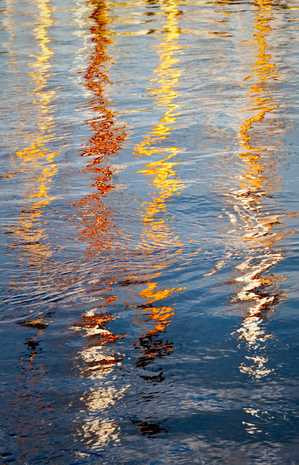 "My intention is to include a sense of what is not visible to the camera," says Abrams, "and the irony of using a highly descriptive medium to create images of the intangible intrigues me. Feelings of light, presence and emotion become tangible through the implementation of color, luminosity, line and selective composition."
These resplendent artful elements are certainly in play in Abrams' "Schooners, Camden, Maine" where four colorful mast lines waft across Abrams' lens. Likewise, undulating turquoise diagonal ripples dance symmetrically in his "Water Music, Turkey." While, by contrast, the vertical cloudbanks of "Thunderstorm, Florida" find Abrams dramatically locating water by other means. Each of these photographs is a superior melding of composition and technique.
Most welcome is the return of one piece from his Kreft exhibit. For there's great photographic art—and then there's "Pilings, Lake Michigan."
Using water's supple malleability to blend and separate his striated palette, these totemic wood pilings jut from Lake Michigan against interlocked, rippling blue and pink waves. "Pilings, Lake Michigan" is, as he himself says, so simple—yet also so profound in its complexity. For it is, ultimately, a history of monumental art photography captured in one disciplined instance.
"The Simplicity of Water: Color Photography" will continue through Aug. 13 at the University of Michigan Health System Gifts of Art Gallery—University Hospital Taubman Main Corridor, Floor 2, 1500 E. Medical Center Dr. Gallery hours are 8 a.m.-8 p.m. daily. For information, call 734-936-ARTS.