Posted on
Sat, Sep 7, 2013 : 5:56 a.m.
Brett Weston's distinct landscape photography on display at UMMA
By John Carlos Cantu
"Brett Weston Landscapes" are inaugurating the University of Michigan Museum of Art's new Photography Gallery in the second floor Maxine and Stuart Frankel Family Wing.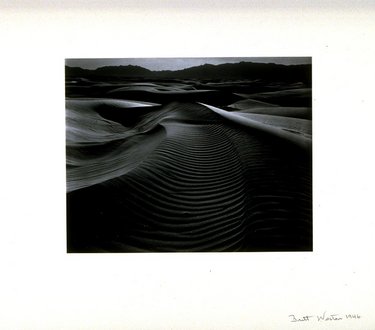 courtesy of the University of Michigan Museum of Art
As the UMMA's press release announcing this development tells us, this newly dedicated space is "part of (the) UMMA's phased effort to incorporate more 20th- and 21st century art and culture throughout the building.
"This flexible and accessible space, sited adjacent to the South and Southeast Asian Gallery, allows the Museum to regularly showcase its distinguished and widely admired photography collection — more than 3,000 images that date from the medium's historic origins to innovative contemporary work and represent a broad range of techniques — through special exhibitions and thematic installations."
It is, of course, possible to come up with a short list of essential inaugural photographers (or topics, of that matter) to launch this gallery. But the younger Weston (1911-1993) is certainly an admirable photographer with which set forth this long-term project. As Carole McNamara, UMMA Senior Curator for Western Art, says in her introduction to the exhibit, the second son of one of America's pioneering art photographers (Edward Weston, 1886-1958), Brett was not only born to the business — he was destined to expand the notion of art photography itself.
"Brett Weston," says McNamara, "ranks among the finest and most iconic photographers of the 20th century, his work standing as a remarkable testament to a strong visual aesthetic that found structure and compelling form in landscape.
"Weston first took up photography as a teenager when he traveled to Mexico with his father. Immediately realizing that his son had great promise, Edward gave Brett his own Graflex 3 ¼ x 4 ¼ camera. Although some influence from his father was inescapable, the young Weston quickly set off in his own direction, printing his negatives with a higher gloss paper and in gelatin silver rather than platinum in order to achieve the deep contrasts and sharp edges he so valued."
These "deep contrast and sharp edges" are certainly on display in this tidy 19 artwork exhibit spreading itself comfortably against two non-contiguous walls at the UMMA. There's a sophisticated sense of minute detail coupled to an overarching abstract composition that makes Weston's photography uniquely his own.
Not content to merely discover his photograph through a viewfinder, Weston instead sought to structure his work so that the landscape image is recognizable for what it is while also particularize the photo's compositional elements to build wholes out of its discrete parts. This is photography quite nearly on the scale of genius and the incontrovertible proof is on display in this carefully selected and meticulously mounted display.
As McNamara further tells us, "Though (Weston) framed his images as a photographer; exploiting the pictorial tensions of positive and negative space — he saw as a painter. Indeed, he was profoundly influenced by the work of not only other photographers, but also leading painters like Diego Rivera, whom he met in Mexico, and Georgia O'Keeffe whose painting he particularly admired."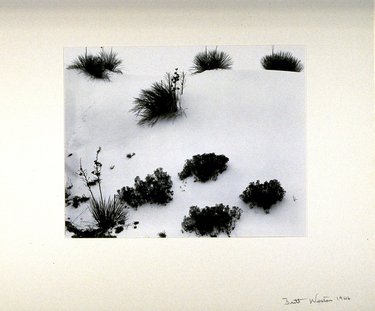 courtesy of the University of Michigan Museum of Art
Take for example, Weston's 1946 gelatin silver print "White Sands "from his "White Sands" portfolio. This magisterial image has a monochromatic saturation that dazzles the eye — but this is also only the most conspicuous quality of the composition as Weston's framing of his pictorial elements features a slight diagonal placement that makes these shrubs seemingly biomorphic. Weston's remarkable eye gives each and every plant a particularized character and it's this attention to detail that makes "White Sands" such a vivid photograph.
"Dunes and Mountains" from the same year and the same portfolio, on the other hand, finds Weston enamored with the ripples of the White Sands landscape. This gelatin silver print is highly pleasing not only for this sheer technical expertise, but also for his playful alternation of flat linear geometry and the rippling sand dune whose repetitive curvilinear striation leads the viewer's eye into the heart of the composition. Using a backdrop mountainous ridge as a brace to frame his viewer's eye, Weston crafts a meticulous series of sightlines whose subtle function is to guide our imagination.
It is, of course, impossible to choose any single one of these 19 photographs as the masterwork of the exhibit, but the two photos mentioned above touch on Weston's considerable strengths as an art photographer.
As McNamara says, Weston sought in his work to "achieve the greatest depth of field and overall sharp focus" in his work. This is most certainly a fact to be found in photograph after photograph in "Brett Weston Landscapes." His display of UMMA accessions sets a standard for the newly established Photography Gallery that's a worthy benchmark to emulate.
"Brett Weston Landscapes" will continue through Dec. 1 at the University of Michigan Museum of Art, 525 S. State St. Museum hours are 11 a.m. to 5 p.m., Tuesday-Saturday, and noon to 5 p.m., Sunday. For information, call 734-764-0395.