Posted on
Wed, Jan 30, 2013 : 5:01 a.m.
UMMA hosting thought-provoking video installation 'Guards'
By John Carlos Cantu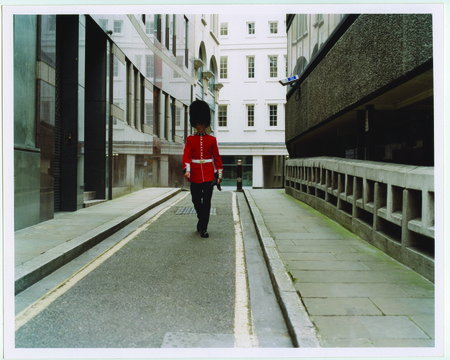 It might be said contemporary Belgian documentarian
Francis Alys
' "Guards" at the University of Michigan Museum of Art's New Media Gallery marches to the beat of its own drummer. Although, on second thought, forget the drummer. "Guards" just marches — period.
A 27-minute video documentary from 2004-2005, sponsored by Artangel, a London-based art commissioning agency, "Guards" is as much performance art (literally and figuratively) as it is any other sort of art videography.
Consisting of nearly a half-hour of the queen's finest maneuvering about the United Kingdom's capital in dress formation, the film says as much about synchronized motion and its effect on British civil society as it does the kinetic ability of cinema to invest interest in the most mundane of tasks.
The film's premise (as stated in its prologue) runs as follows:
• 64 Coldstream guards enter separately in the city of London, unaware of one another's route.
• The guards wander through the city looking for one another.
• Upon meeting, they fall into step and march together.
• When a square measuring 8x8 guards is built, the complete formation marches toward the closest bridge.
• As they step on the bridge, the guards break step and disperse.
And so the film goes. Although, as the UMMA's gallery statement adds, "There is perhaps no more symbolically unemotional character than that of a bearskin-hat-wearing guard of the Queen of England. Yet even with no break in (these) guards' indifferent exterior, the tale still manages to be a powerful metaphor for the human condition."
Granted, it's an exceedingly abstract element. But the philosophical conundrum is an integral part of the video.
There can be no question about Alys' intent to present his narrative through multiple viewpoints (including surveillance cameras and point-of-view shots from mini-cameras set inside some of these servicemen's familiar bearskin hats); as well as from multiple urban vantage points at street level; bird's-eye level; and even close-up — all edited seamlessly to the aural and visual pace of the company's synchronized step.
The first quarter of the video essentially establishes London itself as a character in the film. Smithfield Market, St. Bartholomew's Hospital, the Guildhall, the Royal Exchange, and St. Paul's Cathedral all make memorable appearances. But the stars of the show — and their drill and precision are most certainly a show — are the 64 servicemen who constitute the film's main attraction.
The 7th company of the Coldstream Guards are instantly recognizable red-coated soldiers whose massive wooly black helmet is supplemented by dress uniform pairs of gold buttons. Their longstanding non-active field role is the performance of ceremonial duties in London and Windsor Castle. The company provides guards for the queen's birthday, and they open Parliament as well as lead the annual Remembrance Sunday Parade —while most famously, serve among the fabled regiments handling Buckingham Palace's "Changing of the Guard."
All this has its place in Alys' "Guards" although he underplays this historic significance in deference to his careful observation of their march formation.
"Guards" has been made with full cooperation of the British Army. But that's not to say it doesn't have keenly observed social implications. As mentioned above, after a series of establishing shots of London locales, the film features these guards milling about alone. What's notable is their relaxed posture as they roam about the city in search of their comrades.
It's only when they begin to pair up (and establish ever-larger formations) that the soldiers' posture begins to resemble what would commonly be called a march. The balance of the film is thereafter devoted to increasing numbers of soldiers in increasingly precise formation until the regiment reaches its customary 64 strong.
There's an increasing conformity to their stride mirrored by the attention they receive from bystanders as the unit grows in number. For when walking individually, or in pairs, they don't attract particular attention. It's only in parade numbers that the public becomes increasingly aware of their presence.
From these fellows' solitary roaming to the increasingly routinized discipline that ultimately lends an increasing rigidity to their movements, "Guards" comments on the sequential performance of the Coldstream regiment in contrast to London's serial sociality.
As such, the documentary is surprisingly fast-paced for a feature that has such a deceptively shallow narrative arc. But this apparent superficiality is also part of Alys' plan.
A sophisticated piece of filmmaking — from carefully balanced synchronous sound to the tightly edited discontinuous contrast of the soldiers and onlookers — Alys' "Guards" is exceedingly clever.
It's a nonstop study of Britain's principal guardians going from individual behavior to rhythmic fused group and back again to individual behavior — all under the steady, watchful gaze of their fellow subjects under the royal crown.
"Francis Alys: Guards" will continue through March 31 at the University of Michigan Museum of Art, 525 S. State St. Museum hours are 11 a.m.-5 p.m. Tuesday-Saturday, and noon-5 p.m. Sunday. For information, call 734-763-UMMA.