art review
UMMA hosting compelling exhibit of Judith Turner photography
Posted on Sun, Aug 5, 2012 : 5:29 a.m.
Judith Turner's black and white photography intently explores the subtleties of geometry in "The Flatness of Ambiguity" at the University of Michigan Museum of Art.

As UMMA Director Joseph Rosa says in his curator's statement (taken as an excerpt from his introductory essay to "Judith Turner: Seeing Ambiguity, Photographs of Architecture"), "Turner is a noted American photographer whose subject matter is mostly architecture. Her signature style consists of highly abstract black and white compositions that play with the ambiguity of light, shadow, and tonality to heighten the aesthetic character of her subject matter and reveal visual relationships not readily apparent."

There's an adroitly realized, near hypnotic brilliance to these works that fuses abstraction to the quite physical junctions of the architecture she depicts. Indeed, in the hands of this immensely talented contemporary photographer, these two seemingly unrelated kinds of art are quite nearly the same thing.

"An example of this," continues Rosa, "can be seen in the way she employs the sky above or beyond an actual building—as a monochromatic surface that then becomes part of an overall composition, a planar component brought into the frame of the photograph.

"This sensibility is furthered by a strong sense of light and shadow that allows elements of a building to be seen as abstract surfaces heightening its architectural essence without having the entire structure completely illustrated."

Turner's photography broadens the essential geometry of her compositions. In each instance, the expansive space between visual elements grounds her art. Effectively, Turner turns the architectural angles she studies into wedges that are akin to life-sized jigsaw pieces.

Yet, as Turner told Glass Magazine earlier in the year in anticipation of this UMMA display, "I do not consider myself an architectural photographer; I am not documenting buildings. Rather, I am a photographer who uses architecture as subject matter.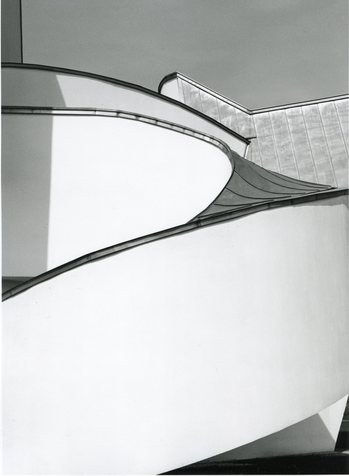 "The ambiguity in my work comes from the way I see buildings. In my pictures, often foreground becomes background and background takes the position of foreground; positive and negative rotate. Curved forms appear to flatten out. Scale is intentionally distorted and perspective exaggerated. Gravity, itself, is defied in some images."
What this effectively implies is that Turner is seeking pure geometry reflected in earthly manifestation. And the marvel is that she's able to consistently find it.
This strategy—like the aesthetic manipulation of all abstraction—isn't as easy as it might seem. Formally simple, representational reduction is actually quite complex.
The ability to train one's eye to see the joints of the world isn't something of chance. It takes tremendous practice and patience.
Perhaps, as she herself admitted to Glass Magazine, the unique vision she brings to her photography arises from her prior experience in graphic design. For the ability to take disparate compositional elements and weld them together into a seamless whole is most certainly an occupational training.
But crafting a highly conceptual photography out of material elements isn't quite so easy. In transferring what she sees of worldly three dimensions to her photographic two dimensions, Turner revels in the uniformity of her opacity. Her keenest trick is getting us to see it, too.
"Judith Turner: The Flatness of Ambiguity" will continue through Sept. 2 at the University of Michigan Museum of Art, 525 S. State St. Museum hours are 10 a.m.-5 p.m. Tuesday-Saturday, and noon-5 p.m. Sunday. For information, call 734-763-UMMA.