Posted on
Tue, Sep 7, 2010 : 5:51 a.m.
UMMA showcases a stunning display of Whistler prints
By John Carlos Cantu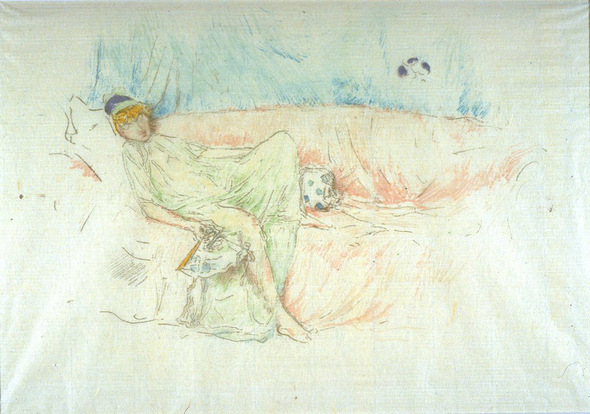 courtesy of the University of Michigan Museum of Art
The University of Michigan Museum of Art's "On Beauty and the Everyday: the Prints of James McNeill Whistler" embodies greatness and perplexity in equal stunning proportions.
The display's strength lays in its complexity. More than one hundred prints executed by Whistler throughout his career cover the UMMA's spacious second-floor A. Alfred Taubman Gallery walls.
It's intimidating to be confronted by the sheer genius in these handsome artworks. Just as, frankly, it's a formidable task coming to terms with the sheer fecundity of Whistler's brilliance — where his drive, ambition, and talent compete for equal attention.
As Carole McNamara, UMMA senior curator of Western art, tells us in her gallery statement, "Nearly all of the Whistler works came to the museum through the bequest of Margaret Watson Parker, an early collector of both Whistler's prints as well as Japanese art."
Parker "collected the vast majority of these works early in the 20th century," says McNamara. Her "association with Detroit industrialist Charles Lang Freer provided her with entree to the most important dealers of Whistler's prints, and she began collecting just as the first important collections of the artist's prints were being dispersed on the market.

"Not aiming for an encyclopedic collection, Parker opted instead to form a collection consisting of impressions of rare quality, particularly evident in the exceptional drypoint portraits she amassed and the rich etchings of Amsterdam and Venice that have been considered among Whistler's finest prints."
This final observation is especially important because, as McNamara points out in the exhibition itself, Whistler — unlike most of his contemporaries — didn't see printmaking as a lucrative sideline.
Rather, she adds, Whistler was "instrumental in the 1860s and 70s in reclaiming both etching and lithography as suitable media for original work at a time when they had been relegated to the rank of reproductive media."
And, therefore, the astounding nuance of "On Beauty and the Everyday." The exhibit illustrates Whistler balancing his eye against his unyielding drive toward technical proficiency —Â all with an inclination to be original and insightful in nuance and observation.
Structuring her exhibit with enough specificity to thoroughly ground an art history seminar, McNamara does what UMMA does best: educate while also illustrating. This museum is one of the few public collections in our country able to mount such an impressive display from within its own holdings.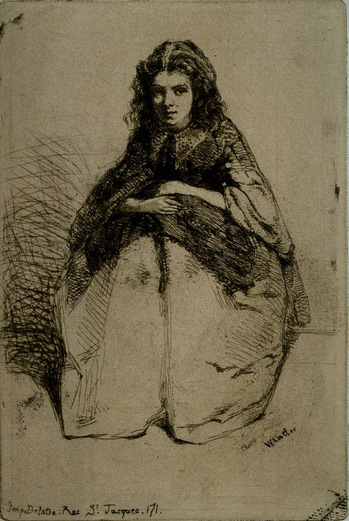 These works range from such delicately demure early Whistler works as his etching and drypoint on Japan paper "Fumette," from the "Twelve Etchings from Nature," or the "French Set" of 1858 where his fastidious line carves a nuanced space to depict his model's hands crossing her drape — to his dreamily daring 1893 transfer lithograph with stumping "Nude Model, Reclining" where Whistler makes ready use of the relatively recent invention of lithography.
Likewise, Whistler's 1893-94 transfer lithograph in six colors "Drape Figure, Reclining" is a masterwork of mood and suggestion, combining a luxuriant hint of bemusement with a heady perception that suggests as much as it reveals.
Contrasting this work with the slightly earlier 1879-80 etching and drypoint on laid paper "The Doorway," from "Twelve Etchings," or the "First Venice Set," finds Whistler as much enthralled with filigree architectural detail as he is interested in depicting his impression of these surroundings.
Yet when one thinks of JWhistler, one mostly thinks of atmosphere, and "On Beauty and the Everyday" features one of its most stunning rarely seen artworks in the UMMA's permanent collection.
His lithotint with scraping on a prepared half-tint ground printed on blue-grey paper "Nocturne" of 1878 is an unqualified masterwork by any definition. And in an extraordinary collection of exceptional artworks, it is easily a first among equals.
courtesy of the University of Michigan Museum of Art
McNamara tells us Whistler had originally called this sort of work a sort of "moonlight" composition until it was suggested by his friend, art collector Frederick Leyland, to call them "nocturnes" after the musical form. McNamara says Whistler thanked him for the idea, saying the term would "so poetically say all I want to say and no more than I wish!"
Never was such an off-the-cuff designation more appropriate for a certain kind of art, as Whistler took the notion of mood and elevated it to the point of refined visual harmony. And this 1878 "Nocturne" is certainly pure inspiration through an extraordinary hard-earned application.
It's not merely that Whistler is using a half-tone on blue paper to depict a lone foreground figure working on a flatbed boat.
Rather, the print's virtuosity lies in Whistler's manipulation of light, shadow, and fog through the his studied imagination to create a netherworld of muted tonalities whose visual planes effortlessly flow from dramatic foreground to mysterious background.
This "Nocturne" is what McNamara most accurately describes as a "poetically cloaked" mist.
What is perhaps most remarkable of McNamara's study of Whistler in this display — and certainly through the length of his career as a printmaker — is her unremitting fascination in his obsession with the subdued line that the print medium is capable of producing. This is an instance where the disciplined exactitude of the scholar is well matched with the disciplined sensitivity of the master.
As she draws to our attention, "Three years after Whistler's death in 1903, the New York Times described (him) as '…easily the greatest etcher of modern times.'"
McNamara's "On Beauty and the Everyday" certainly lends credence to this accolade through its patient examination of his work print by print — in many instances, literally detail by detail — in a sophisticated and erudite manner that's grand by any definition of the word.
"On Beauty and the Everyday: the Prints of James McNeill Whistler" will continue through Nov. 28 at the University of Michigan Museum of Art, 525 S. State St. Museum hours are 10 a.m. to 5 p.m. Tuesday-Saturday; and noon to 5 p.m, Sunday. For information, call 734-763-UMMA.