UMS President Ken Fischer honored by performing arts presenters
Posted on Thu, Jan 13, 2011 : 5:10 p.m.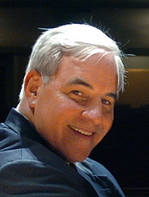 Ken Fischer —Â president of the University Musical Society, the prestigious group that presents many fine-arts performances in Ann Arbor —Â has been honored with an award from a trade group, the Association of Performing Arts Presenters.
Fischer received the Fan Taylor Distinguished Service Award, bestowed for having an impact on the group and/or the profession of performing-arts presentation.
The full text of the announcement from APAP:
Kenneth C. Fischer, president of the University Musical Society (UMS) of the University of Michigan, was recognized by his peers at the annual Association of Performing Arts Presenters (APAP) Conference on Monday, January 10 in New York City at APAP's Annual Awards Ceremony and Luncheon in the Grand Ballroom of the New York Hilton.

He received the Fan Taylor Distinguished Service Award, presented each year to an individual whose outstanding service, creative thinking, and leadership have had a significant impact on the profession of presenting and/or on the Association of Performing Arts Presenters. The recipient of the award is kept secret until the annual luncheon at the APAP|NYC conference.

Fischer is currently in his 24th season at the helm of UMS. During that time, he has served on the Arts Presenters' Board of Directors for two different full terms, including serving as the Board's Vice Chair. APAP President and CEO Sandra Gibson said, "Ken has been an amazing supporter and colleague, and a tremendous contributor to the field."

"Oh, man, this is a big surprise," said an emotional Ken Fischer after being presented with the award and after being informed that his wife Penny, son Matt, daughter-in-law Renee, and grandson Alex were present in the room. "To be receiving an award that's named after Fan Taylor, who founded this organization (Association of Performing Arts Presenters) is deeply meaningful recognition for me. When I started at UMS, I tried to learn from those who had gone before me — both at UMS and within the field of concert presenting. My faculty became the presenters whom others admire and respect. Rather than give me answers, my colleagues suggested critical questions that I should be asking myself."

After talking about the legacy of long-serving predecessors at UMS (Gail Rector from 1957-1987 and Charlie Sink from 1904-1968) and his mentor, Patrick Hayes, who desegregated the theaters of Washington, D.C., Fischer added two more thank yous: "To the community of Ann Arbor and the University of Michigan, which have provided support for the arts for 131 years. We are so lucky, so blessed with this particular community, which is absolutely extraordinary. And finally, my magnificent staff colleagues."

Ken Fischer has contributed to the performing arts presenting field as a speaker, workshop leader, writer, consultant, panelist, and cultural ambassador under U.S. State Department auspices to Brazil, China, Lithuania, and Mexico. He currently chairs the Board of Directors of National Arts Strategies and the National Advisory Board of the Strategic National Arts Alumni Project (SNAAP) and serves on the boards of the Interlochen Center for the Arts; Arts Midwest; Cultural Alliance of Southeast Michigan; Sphinx Organization and Ann Arbor SPARK. He is also active with the International Society for the Performing Arts (ISPA), Major University Presenters, Classical Action/Performing Arts Against AIDS, and Chamber Music America. He received the Patrick Hayes Award in 2003 from ISPA for his career achievements in the performing arts.

Locally, he has been recognized by The Links, Inc., Ann Arbor Public Schools Foundation, Jewish Family Services of Washtenaw County, Ann Arbor Convention and Visitors Bureau, and Performance Network for his contributions to the Ann Arbor community.

The award is named for Fan Taylor, for her many contributions to the field of presenting. Taylor was instrumental in the development of what was then called the Association of College and University Concert Managers, which evolved in Arts Presenters. She served as Arts Presenters' first secretary-treasurer and eventually its first executive director. She passed away in 2008 at the age of 94.

Fischer is not the first UMS employee to receive the Fan Taylor Award, which was first presented in 1972; former executive director Gail Rector received it in 1985. In its 54th year, APAP's annual members conference brought together nearly 4,000 industry professionals from all over the country and around the world, nearly 400 exhibitors and offered over 1,200 performances - all as the world's leading forum and premier global arts marketplace for the performing arts.