Posted on
Tue, Jan 29, 2013 : 7:59 a.m.
UMS to offer day-long, free celebration of Hill Auditorium's 100th birthday
By Jenn McKee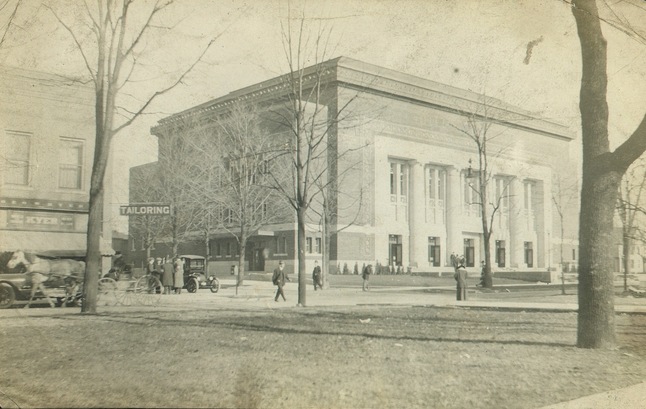 On Saturday, Feb. 2, the
University Musical Society
will celebrate 100 years at Ann Arbor's most beloved concert venue,
Hill Auditorium
, at 825 N. University Ave.
"UMS was critical in the founding of Hill Auditorium, and UMS presented the very first concert in Hill Auditorium on May 14, 1913 (the Chicago Symphony Orchestra under the baton of Frederick Stock)," explained UMS press and marketing manager Truly Render. In November, The Michigan Daily offered a feature focused on the history of Hill Auditorium.
The daylong celebration of Hill on Feb. 2 begins with coffee and doughnuts at 10 a.m., and a special "Saturday Morning Physics" event at 10:30 a.m., focusing on the marvelous and world-renowned acoustics of Hill Auditorium. Acoustician Scott Pfeiffer (lead consulting acoustician on Hill's 2004 renovation) will explore what makes Hill special. From noon to 2 p.m., self-guided architecture and history tours will be available.
PREVIEW
Hill Auditorium Celebration
What: The University Musical Society will spend the day celebrating 100 years Hill Auditorium, beginning with a "Saturday Morning Physics" event that will focus on Hill's acoustics; architecture and history tours; a world-premiere screening of a UMS documentary about 100 years of performance at Hill; and a panel discussion, followed by a cake and punch reception.
Where: Hill Auditorium, 825 N. University Ave. in Ann Arbor.
When: Saturday, February 2, beginning at 10 a.m.
How much: Free. Visit http://ums.org/performances/hill-auditorium-immersion-and-celebration for a detailed schedule of events.
"The self-guided tours will have paper handouts and 'ask me guides' stationed throughout; they are not audio tours," said Render. "There will also be a mini-exhibition in the lobby of some of the recipes that UMS prepared for our touring artists (and notes on if they liked them or not!) in the early years of the organization."
Next, the world premiere screening of UMS' one-hour documentary, "A Space for Music, A Seat for Everyone: 100 Years of UMS Performances in Hill Auditorium," is scheduled for 2 p.m. The documentary combines archival material and original interviews to explore Hill's rich history and incredible acoustics, and the vital role Hill Auditorium plays in the cultural vibrancy of our region. Check out the film's trailer.
At 3:15, an hour-long panel discussion titled "The Past, Present, and Future of the Great Concert Hall" will gather experts in music, architecture, and technology to talk about how artists, audiences, and new technologies are changing the way we think about great concert halls like Hill Auditorium. The talk will be moderated by Professor Mark Clague, of U-M's school of music, theatre and dance. And wrapping things up, from 4:30 to 5:30 p.m., will be a cake and punch birthday party reception.
All events are free, and attendees may come for any or all of the activities.
Jenn McKee is the entertainment digital journalist for AnnArbor.com. Reach her at jennmckee@annarbor.com or 734-623-2546, and follow her on Twitter @jennmckee.